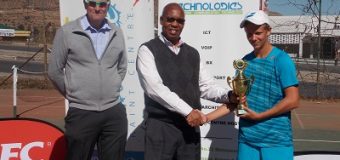 Lesotho hosted the International Tennis Federation (ITF) under 18 Junior Open Championship from the 15th -19th May this year at the Lesotho Lawn Tennis Association (LTTA) tennis courts and the local young promising tennis players unfortunately failed to use that opportunity to earn ranking points after failing to even reach the semifinals.
At first the tournament was set to start with qualifiers events for non-ranking players to fight for the main draw from the 13th-14th but they all pulled out, and that forced the tournament to start on the 15th.
Lesotho as the host country had the advantage of qualifying straight for the main draw with eight players.
The tournament consisted of singles and doubles events for both males and females. The boys' singles first prize was taken by South Africa's Gerhardt Marius Becker and his coach Josh Barry told Informative Sport that his player was good and that he deserved the spot.
"He played very well because he did all that we have been practicing," Barry said.
According to Barry his boy's play had improved and was promising. He also highlighted that the team was well prepared for this tourney and were in Namibia for another tournament of the same level a week before this event. Barry also mentioned that their secret to win the competition was to stay focused and work hard.
"To be a good player one need more games to earn confidence," added Barry.
The men's doubles top tittle was taken by Neksa Ciric (Serbia) in pair with his country mate Tagija Radovanovic.
In the ladies category the singles championship was also taken by SA's Linge Steenkamp while in doubles it was Adetayo Adetunji from Nigeria who paired with Chelsea Dzenga from Zimbabwe.
On the other hand the Lesotho Sports and Recreation Commission (LSRC) president Khiba Makoanyane said the visit of these international tennis players to the Mountain Kingdom was a blessing. He further mentioned that the visitors have to be prepared for a tough fight when they visit Lesotho again and forget that Lesotho will "show hospitality by donating points to them again".
Lesotho lawn tennis national coach, Mojalefa Mothibe, told this paper that he hopes his players benefited a lot from this tournament as he said it was the first time to play at this level for most of them, but they did their best.
"If we get more tournament of this nature there is no doubt that we can start collecting more medals for the country," mentioned Mothibe.
Lesotho was represented by Thaane 'Mokose, Lehlohonolo Motsamai, Teboho Morake and Mpalleng Sempe in males' category. In females events it had 'Manyama Maisa, Karabelo Thite and Kekeletso Moseme.