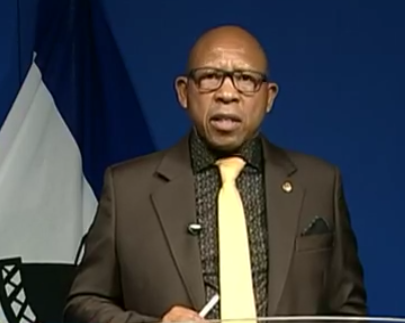 The Prime Minister, Dr Moeketsi Majoro on Sunday evening announced in his national address that the country moves to Blue Colour Coding Stage as per COVID-19 Risk Determination and Mitigation Framework starting midnight of Sunday.
This announcement came three weeks after the country moved back to Purple Colour Coding Stage which allowed the operation of retail stores from 08:00 am to 18:00 pm while economic and social activities such as sports events and public recreational areas are not were fully restricted while churches were allowed a maximum of 50 people for indoors and 100 for outdoors.
Dr Majoro said the decision by Cabinet for the country to move back to the blue colour stage followed the adoption of a new framework that considers several factors including epidemiological status, health care system readiness for increased infections, and forward-looking environmental factors.
Moving back to the blue colour coding stage means the country will again be exposed to lighter COVID-19 restrictions which include among others; the opening of schools and institution of higher learning on a rotational basis still adhering to standard risk-based guidelines, the normal operation of retail shops like grocery, supermarket, cafes and clothing stores however still observing COVID-19 protocols.
Talking about the tourism industry, he said the accommodations facilities are fully opened allowing meetings, workshops and conferences at 50 percent capacity, adding that public recreational areas are permitted to operate.
Moreover, Dr Majoro said international travel is allowed only for individuals who transport essential goods and service, business community with permits, deported migrants, commuting teachers and students.
He stated that public transport will operate at full capacity with the new regulation of no eating in the vehicles and no standing in 22 seaters and buses.
However, he mentioned that social activities such will family gatherings, initiations schools, political rallies and industrial actions are 100 percent restricted while indoor church services are allowed with a maximum of 50 percent capacity and the service should last no more than two hours. Masks must be worn all the time including when singing.
Dr Majoro stressed that even though the country moves back to the blue colour coding stage, the country is still faced with three challenges that may cause hikes in COVID-19 infection, saying Easter holiday where the country expect a major influx of tourists, the arrival of the winter season and the third wave of COVID-19 are a threat to the nation.
He therefore appealed to the nation to continue observing COVID-19 recommendations and regulations so to protect themselves from this deadly pandemic.
So far, Lesotho has recorded 309 deaths, 3 922 recoveries, 10 535 positive cases and 63 951 tests have been conducted while more than 10 300 have been immunised with the COVID-19 vaccine.