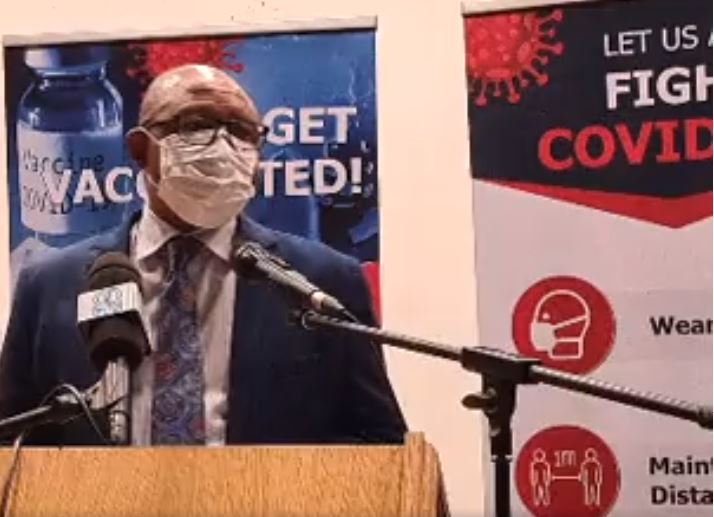 The Letséng Diamond Mine has donated 20 000 doses of the Johnson and Johnson vaccine worth M2.787 million in support of the fight against the COVID-19 pandemic.
The Prime Minister, Dr Moeketsi Majoro received the donation on behalf of the Government of Lesotho at the event held at the Ministry of Health Auditorium on Tuesday.
When receiving the donation, Dr Majoro thanked Letséng Diamond Mine for the gesture, saying it will go a long way in helping Basotho to get the vaccine.
He said the target is to vaccinate 1.6 million Basotho, saying the donation will add the number of Basotho who have already been vaccinated.
The Prime Minister however mentioned challenges experienced regarding the procurement of the vaccines, saying western countries prioritise their citizens before letting other small countries get the vaccine.
Dr Majoro remarked that Lesotho had the Pharmaceutical Corporation that used to produce enough medicines for the country so much that it supplied other countries, expressing disappointment that unfortunately the corporation was let to collapse.
He assured Basotho that the donation from Letséng Mine has already been sent to companies that produce the vaccine, saying they are awaiting procurement processes.
Handing over the cheque on behalf of Lets'eng Diamond Mine, Mr. Kelebone Leisanyane said this donation signifies an ongoing commitment of the mine to support the fight against the COVID-19 pandemic.
He noted that the gesture is part of the mine's initiatives to assist Lesotho, citing a series of activities such as training of health workers in Mokhotlong, distribution of food parcels, PPEs as well as handing over of a building used as a testing laboratory at the National Laboratory at Botshabelo in Maseru.
The Government of Lesotho has already vaccinated 36 000 Basotho against the COVID-19 in which front-liners like healthcare workers, media personnel and people with chronic illnesses have already received the first doses of the vaccine.