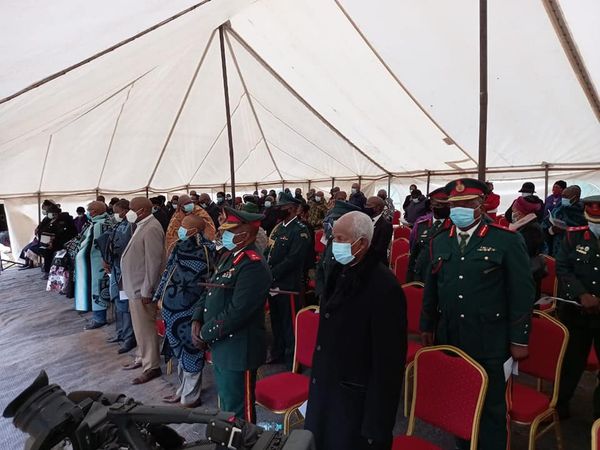 The retired Chief of the army, Major General Justine Metsing Lekhanya and wife, Mrs. Sofia Lekhanya were laid to rest at Ratjomose Barracks in Maseru on Thursday.
Conveying his condolences during the funeral service, His Majesty King Letsie III said the loss that the Lekhanya family has suffered is also the loss to the country as the deceased played major roles in the well-being of the country.
He said Major General Lekhanya's dedication and hard work in developing Lesotho and Basotho can be traced from a number of initiatives that include the establishment of the Lesotho Defence Force (LDF) from Paramilitary Police Unit (PMU) and when he served as a Prime Minister, saying in all these, he is believed to have received a support from his wife.
His Majesty, therefore, thanked both the deceased for their contribution in building this country.
When passing his condolences, the Prime Minister, Dr Moeketsi Majoro commended Major Lekhanya for his remarkable work during his reign, saying he will continue to be remembered as even today Basotho are still benefitting from most of his work.
The Commander of the Lesotho Defence Force, Lieutenant General Mojalefa Letsoela hailed the founding father of the Lesotho Defence Force as an inspiration to him due to the footprints he left in commanding the force.
Lieutenant General Letsoela described Major General as a vigilant leader that put the Lesotho Defence Force to greater levels, expressing his wish that many of the Lesotho Defence Force members would learn from the footprints of the deceased.
Present at the funeral service included the Speaker of the National Assembly, Mr. Sephiri Motanyane, the Deputy Prime Minister, Mr. Mathibeli Mokhothu, LDF management and army members.
Major General Justin Metsing Lekhanya who was born on April 07, 1938 served as Prime Minister, Minister of Defense and Chairman of the Military Council of Lesotho from 24 January 1986 to 2 May 1991.