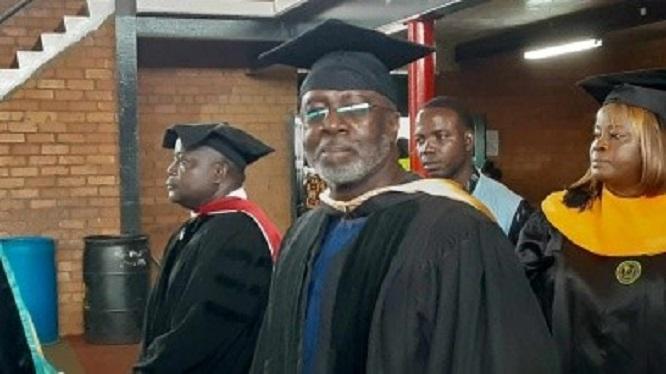 Mae Azango
Africa-Press – Liberia. Deputy Speaker of the 54th Legislature, Cllr. J. Fonati Koffa, has admonished graduates of Harbel College, located in Firestone, Margibi County, to utilize their accomplishments to contribute to their country and the broader society.
Harbel College celebrated its second graduation exercise, conferring degrees upon 45 graduates across various disciplines at the BSc level. These disciplines encompassed the School of Engineering and Energy Systems, the School of Food Agriculture and Environmental Science, and the School of Education and Professional Studies.
Addressing the graduates as the Keynote Speaker for the second graduation ceremony, Deputy Speaker Koffa emphasized that the day marked a monumental achievement in the graduates' lives as they transitioned from one phase to another. He highlighted the significance of college as a critical step in a person's life when they move away from their parents' guidance and control to make independent decisions, such as attending classes or social events, and balancing study and leisure.
Deputy Speaker Koffa stressed that the graduates' education and accomplishments should serve a greater purpose: to improve their country, district, city, and families. He encouraged them to become better individuals, as this would contribute to building a better society and world.
He further emphasized that college represents the first time in an adult's life when they begin to make significant choices, and the outcomes of these choices determine their future paths. Deputy Speaker Koffa acknowledged the enduring nature of education and the challenges graduates might face when applying their education in the wider world.
Deputy Speaker Koffa expressed gratitude to the College's Acting President, Dr. Joseph D.S. Boldar, for the program and for waiting for his arrival before commencing the ceremony.
Dr. Boldar provided a brief history of Harbel College, noting that it was established as a public institution of higher learning in 2012 through legislation signed into law by former President Ellen Johnson Sirleaf. He highlighted the college's growth, including its first graduation in 2021 and the launch of the J. Emmanuel Nuquay School of Business Administration.
Dr. Boldar called upon the Legislature, in the presence of Deputy Speaker Koffa and Rep. Ivar Jones, to pass the legislation needed to transform the college into the University of Margibi.
During the graduation program, Dr. Boldar appealed for support to renovate the college's building and construct an auditorium, as the Harbel high school hall was used for the ceremony. Deputy Speaker Cllr. Koffa pledged US $5,000, while Senator Aspirant Nathaniel McGill pledged US $4,000, and Rep. Ivar Jones pledged US $500.00, among other donations.
Dr. Boldar also recognized graduate Isaac L. Kabeywollie, from the School of Agriculture and Environmental Science, as the Summa Cum Laude, and twelve other Cum Laudes from various disciplines. Dr. Boldar announced that the College would employ Student Kabeywollie as a way of giving back to the District. However, during his valedictorian address, graduate Kabeywollie expressed his desire to further his education.
In a conversation via mobile, graduate Kabeywollie clarified that he did not wish to work at the college but was seeking a scholarship to continue his education. He appealed to Deputy Speaker Cllr. Koffa and Representative Jones for assistance in obtaining a scholarship to pursue his educational dreams.
The Valedictorian's Speech: "I am honored to stand before you as the valedictorian to deliver the speech for the second commencement convocation of this esteemed institution, Harbel College/Proposed Harbel University.
First and foremost, I would like to express my gratitude to the management team of Harbel College for providing us with the opportunity to pursue various courses and for their valuable guidance and advice during our quest for knowledge in this institution. We are immensely grateful, as success is rarely achieved without the support of others.
Today marks a momentous occasion, symbolizing the culmination of years of hard work, dedication, and perseverance. As we reflect on our time at this college, we cannot overlook the friendships we have forged, the bonds we have built, the late-night study sessions, the shared laughter, and the collective achievements and failures. These moments have shaped us and made our college experience truly unforgettable. Let us cherish these memories and hold onto the connections we have established, for they will serve as the foundation of our future success. I aspire to secure a scholarship to further my education and pursue my dreams," the speech concluded.
For More News And Analysis About Liberia Follow Africa-Press