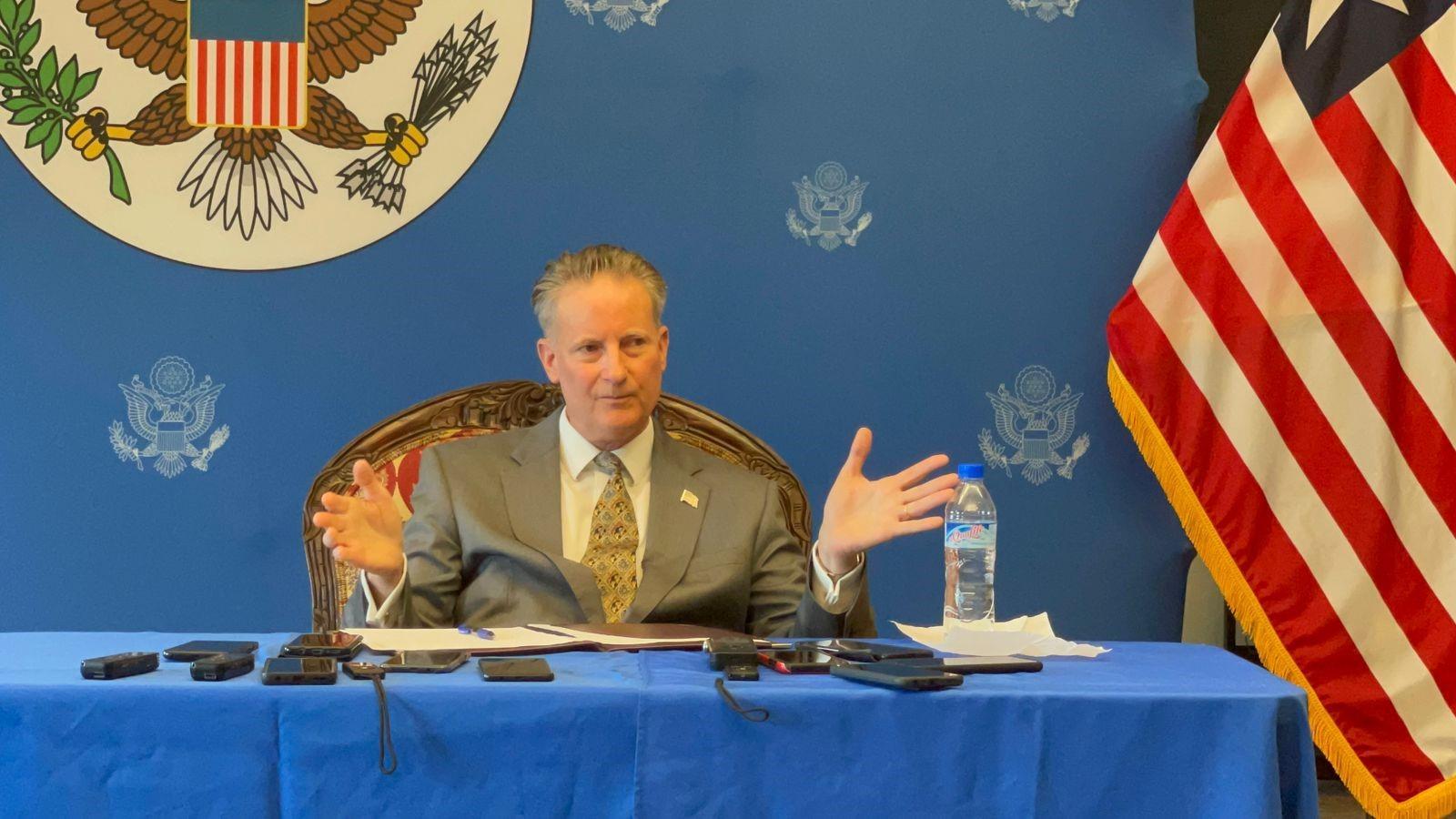 Africa-Press – Liberia. Outgoing United States Ambassador Michael McCarthy said he was saddened to see the acquittal of suspects in both a recent human trafficking case and in the US$100 million cocaine trafficking case.
On Thursday, May 18, jurors at Criminal Court 'C' handed down a unanimous not-guilty verdict, exonerating all four defendants accused of being part of an alleged scheme to import a staggering 520kg of cocaine into Liberia.
That ruling continues to send shockwaves across the country and beyond. The latest high-profile official to weigh in on the issue is Amb. McCarthy.
In his monthly press roundtable, Amb. McCarthy said: "While I hesitate to second-guess any jury and I fully admit that I am not privy to all the details of the prosecutions or their defenses, I hope this does not send a signal of weakness in enforcement to international criminal cartels.
"From an outsider's perspective it is alarming that convictions could not be obtained in Liberia, even when the evidence seemed so overwhelming. I am also worried about what these developments portend for Liberia's justice sector, which the United States Government has supported with many millions of dollars over the years in capacity development."
Amb. McCarthy's statement comes in the wake of the Ministry of Justice's failed attempt to convinced the Supreme Court to stop Criminal Court 'C' from enforcing the jurors' verdict in favor of defendants Malam Conte, Adulai Djibril Djalo, Makki Admeh Issam, and Oliver A. Zayzay in a writ of prohibition.
The writ was also aimed at halting the return of the US$210,000 that had been seized by the state during the arrest of the four men.
Right after the jurors' verdict, the Minister of Justice and Attorney General of Liberia, Cllr. Musa Dean described the ruling as appalling and stated that it clearly undermines the collective efforts of Liberia and its international coalition to clamp down on the illegal transit of illicit drugs using West Africa as the conduit to trade narcotics internationally from Latin America and elsewhere.
He said it becomes worrisome and shameful as in the case of the recent verdict, for the courts to be setting hardcore criminals free when the evidence is overwhelming in the face of international security collaboration that tracked and brought the perpetrators of this heinous crime before the law.
'Positive Examples'
Despite the negative impact the court's verdict has had on Liberia's justice system, Amb. McCarthy shared "some positive examples" and "remarkable law enforcement activities" over the past month.
He paid homage to the Liberia National Police (LNP), for collaborating with the U.S. Embassy Consular section that resulted in the arrest of two fraudulent document vendors who sought to undermine the integrity of U.S. and Liberian documents. Had they been successful, Amb. McCarthy said this would have weakened the security of both countries.
"Let this be a caution to all applicants, that there are unscrupulous criminals in Monrovia who will try and seduce you into thinking that lies and forged documents are a short-cut to qualifying for a visa to the United States," he warned.
"Nothing could be further from the truth. When you are caught using falsified documents, you will render yourself ineligible for any visa for years to come, if not for life, and the money you spent on these scoundrels will be lost forever. You may be ineligible for U.S. funded training and assistance opportunities as well. We greatly appreciate the assistance from the Government of Liberia in smashing these criminal enterprises and putting miscreants behind bars."
He lauded the security forces working with the USAID-funded Focused Conservation project that seized a shipment of pangolin scales –the largest interdiction ever in Liberia, as well as the arrest of suspect accused of mistreating a chimpanzee, which was later delivered to safety at a certified chimpanzee shelter.
He also congratulated the security sector interagency team that used "old-fashioned detective work" to identify and raid pharmacies who were selling donated medicines.
In addition, he hailed the joint security team in Karnplay, Nimba County for preventing a suspect from smuggling stolen pharmaceutical drugs into Cote d'Ivoire over the weekend.
He said medicines purchased and donated by USAID and other international partners so that they could be given free of charge to those in need, were instead being sold by "heartless, greedy pharmacists" to make easy money.
"Like the expression 'stealing candy from a baby', these criminals were stealing donated medicine from the poorest Liberians – mostly children – to make a profit! It would be a lie to call this a victimless crime; I can tell you with no exaggeration that Liberians without resources have died unnecessarily over the past years because they were denied access to donated medicines."
Continuing, he said: "These pharmaceutical products belong to the poor, and they have a right to receive them free of charge. Let short-sighted, heartless thieves understand – the police are on to you, and they will hunt you down! Prosecutors are eagerly awaiting the opportunity to arrest you, put you on trial, and get you behind bars."
On the "appalling" alleged kickback scheme of health funding in Margibi, the Ambassdor reiterated the Embassy's support to Minister Jallah's recommendation that Margibi County Health Officials be prosecuted by the LACC to the fullest extent of the law.
"We look forward to seeing those prosecutions to a successful end, which will then allow us to resume reimbursing legitimate expenses at the county level in Margibi, per our $55 million-dollar Government-to-Government Health assistance program."
'Avoid the repeat of the nonsense'
Earlier in his remarks, Amb. McCarthy congratulated political party leaders, civil society groups and international dignitaries on the signing of the Farmington River Declaration last month which called for peaceful and transparent elections.
However, sounding out a caveat, the firebrand American diplomat did not mince his words in condemning the attack on Nimba County Senator Prince Y. Johnson's Chapel of Faith Church that led to the disruption of normal service.
He said: "These signatories [to the Farmington Declaration] made a clear commitment to prevent violence, cooperate with law enforcement agencies, expand voter education, avoid inflammatory language and disinformation, and accept the official election results, among many other elements. My congratulations come however with a caveat: going forward, I expect all parties to avoid a repeat of the nonsense we witnessed two weeks ago with the political disruption of a church service. To the political leaders: if your signatures mean anything, we depend on your honor to uphold those high standards invoked in the Declaration."
On Sunday, May 21, the National Patriotic Party (NPP) Youth League, dressed in their party's regalia, carrying banners and placards and chanting anti-PYJ and pro-war crimes court slogans stormed the Christ Chapel of Faith, disrupting normal services.
Senator Johnson and his congregation were left stranded in the Church's compound for some time before exiting. He quickly accused the CDC of orchestrating a plan to assassinate him because he broke ties with them, and switched allegiance to former VP Joseph Nyumah Boakai.
The NPP, headed by VP Jewel Howard Taylor, is a constituent member of the ruling Coalition for Democratic Change (CDC). Despite public outrage over the NPP Youth League's action, President George Weah and VP Taylor have remained mum over the incident.
Reading his prepared statement at the roundtable, Amb. McCarthy said the true test of the commitment enshrined in the Farmington Declaration will be the execution of a free, fair, transparent, and peaceful election process over the next 19 weeks.
"I urge media institutions and integrity organizations to keep politicians of all parties accountable to their important Declaration commitments. Rather than simply reporting on the "horse race," — ask politicians the tough questions about their platforms and records, shed light on policy inconsistencies, and remind the public what they stand to gain—or lose—in the lead up to October. It is not easy, but your efforts to hold politicians and government officials accountable are critical to upholding Liberia's democracy, and I salute you for it."
For More News And Analysis About Liberia Follow Africa-Press