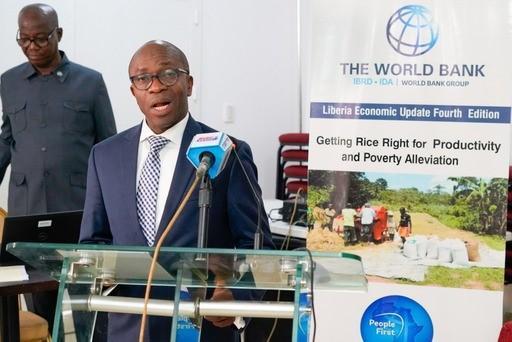 Africa-Press – Liberia. The World Bank has released its Fourth Edition of the annual Liberia Economic Update, titled "Getting Rice Right for Productivity and Poverty Alleviation," emphasizing the crucial role of improved rice production in achieving food security and reducing poverty. The report highlights significant progress in the agricultural sector, with rice and cassava production driving growth and contributing to a 5.9 percent expansion in the sector during 2022.
Despite facing global headwinds from the war in Ukraine, high global inflation, and depressed demand in advanced economies, Liberia's economy demonstrated resilience, expanding by 4.8 percent in 2022. This growth was attributed to increased gold production and a favorable agricultural harvest. However, despite these positive trends, the report underscored the persistent challenge of food insecurity, with over 80 percent of the population experiencing moderate or severe food insecurity.
Mack Capehart Mulbah, Acting World Bank Country Manager for Liberia, expressed concern about the prevailing food insecurity and stressed the importance of rice production for food security, poverty alleviation, and vulnerability reduction. Rice consumption constitutes over 20 percent of the country's total food intake, supplying almost half the calorie intake for adults and accounting for approximately 15 percent of the average household's expenditure. The report highlighted the disparity between high demand and low production of rice in Liberia, with the country currently producing only a third of its rice needs due to various constraints, including limited access to technology, inefficient farming practices, and insufficient public and private investments.
Gweh Gaye Tarwo, Liberia Country Economist and main author of the report, drew attention to the adverse impact of rising imported rice prices, exacerbating food insecurity, poverty, and vulnerabilities in Liberia. Tarwo emphasized the necessity of tripling domestic rice production to meet local demand, but achieving this goal would require significant investments and policy actions in the rice sector.
The report recommended several interventions to enhance the rice sector and improve the rice value chain. Key measures include stakeholder coordination and engagement to implement the Liberia National Rice Development Strategy and the Liberia Seed Development and Certification Agency Act of 2019. Strengthening tenure security through customary land registration, improving road infrastructure, providing affordable energy, and avoiding policies that distort the rice industry were identified as critical steps. Furthermore, enhancing information dissemination on regional market prices and adopting sectoral policies aimed at improving seed varieties, storage, processing, post-harvest management, and market access development were also emphasized.
Addressing the challenges faced by Liberia's rice sector is vital not only for achieving food security but also for reducing poverty and enhancing the overall economic development of the country. With concerted efforts from stakeholders and the implementation of targeted interventions, Liberia aims to improve rice production, ensuring a sustainable supply of this essential commodity for its population and transforming the agricultural sector for long-term growth and prosperity.
For More News And Analysis About Liberia Follow Africa-Press