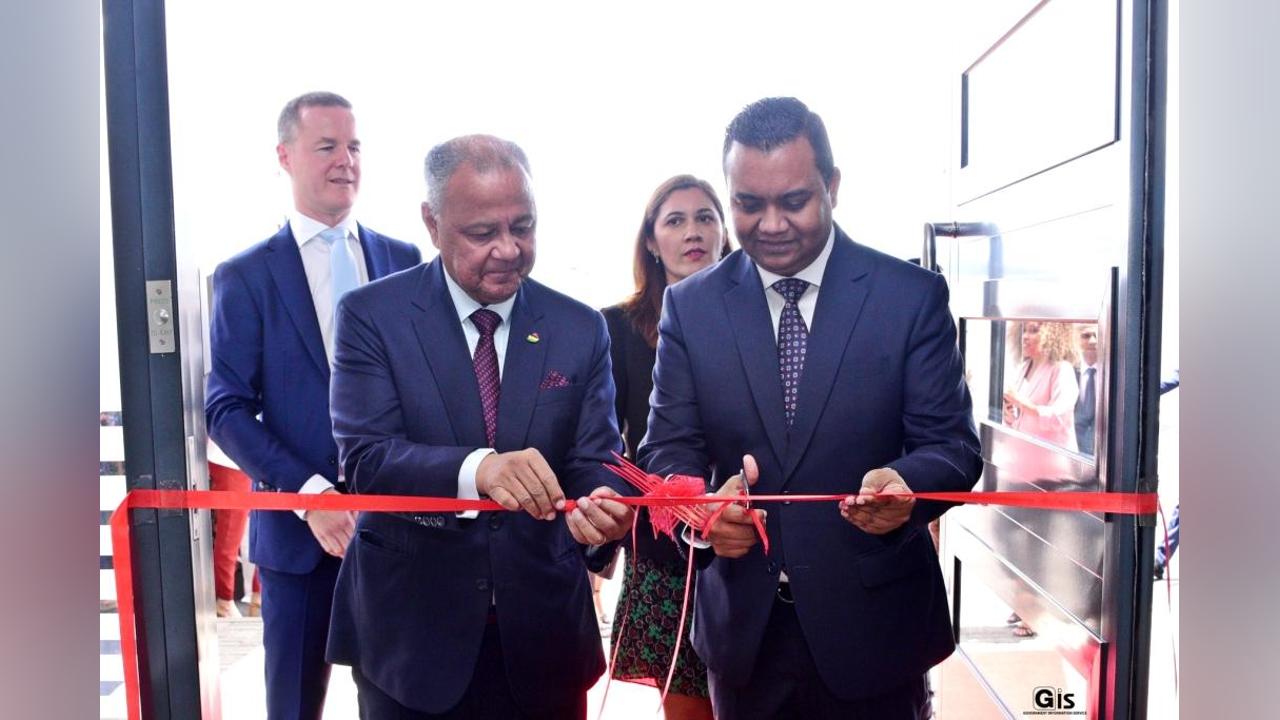 Africa-Press – Mauritius. Government is mobilising the necessary resources to create a resilient business environment through digitalisation and enhanced connectivity and support the private sector in a bid to make them reach their potential as a key player in the country's economic progress, stated the Acting President of the Republic of Mauritius, Mr Marie Cyril Eddy Boissézon.
He was speaking, today, at the inauguration of a new building for Celeste Telecom at Côte D'Or. The Minister of Information Technology, Communication and Innovation, Mr Darsanand Balgobin; the President and Founder of Celeste France Group, Mr Nicolas Aubé; and the Director of Celeste Telecom Mauritius, Mrs Diane Suru; were also present.
Celeste Telecom, an internet service provider for businesses, was founded in 2014 in Mauritius. The company offers High-Speed network to telecommunication operators who need tailor-made solutions according to their company size and requirements.
In his address, the Acting President underlined that the COVID-19 pandemic has accentuated the need to have rapid and secure connection for remote work.
Government, he stressed, is doing its best to create a smart and connected country so as to boost business activities. He stated that the digitalisation of services has significantly responded to the needs of the population and enterprises.
In addition, he indicated that international connectivity will soon be strengthened by a fourth cable, the T3, to improve delivery of ICT services and encourage optimal use of emerging technologies.
Mr Boissézon lauded Celeste Telecom for their contribution in the world of telecommunications and for valorising local expertise. Presently, he indicated, the company employs around 70 persons and is expected to provide more employment opportunities for the youth.
As for Minister Balgobin, he underscored that despite the difficulties faced at the socio-economic level for the past two years, the ICT sector in Mauritius has proved to be resilient.
He dwelt on several projects that are geared towards digitalising Government services and improving the quality of life of citizens namely MoKloud, MauSign, and MoRendezVous.
In our endeavour to make the digital ecosystem more stable and resilient for internet users, a new law on Cybersecurity and Cybercrime has been introduced, he recalled.
He further indicated that Mauritius is currently ranked first in Africa and 17th in the world on the International Telecommunication Union Global Cyber Security Index 2020.
He congratulated Celeste Telecom for their trust in the competence and expertise of the local workforce and for their contribution in reinforcing fraternal ties between Mauritius and France.
For his part, Director Aubé pointed out that the mode of functioning of enterprises has changed over the years and the role of Celeste France is to accompany companies in this change and provide a support for a technological revolution.
He expressed confidence in the abilities and know-how of the local staff and announced that the company will offer more employment opportunities in the future.
For More News And Analysis About Mauritius Follow Africa-Press