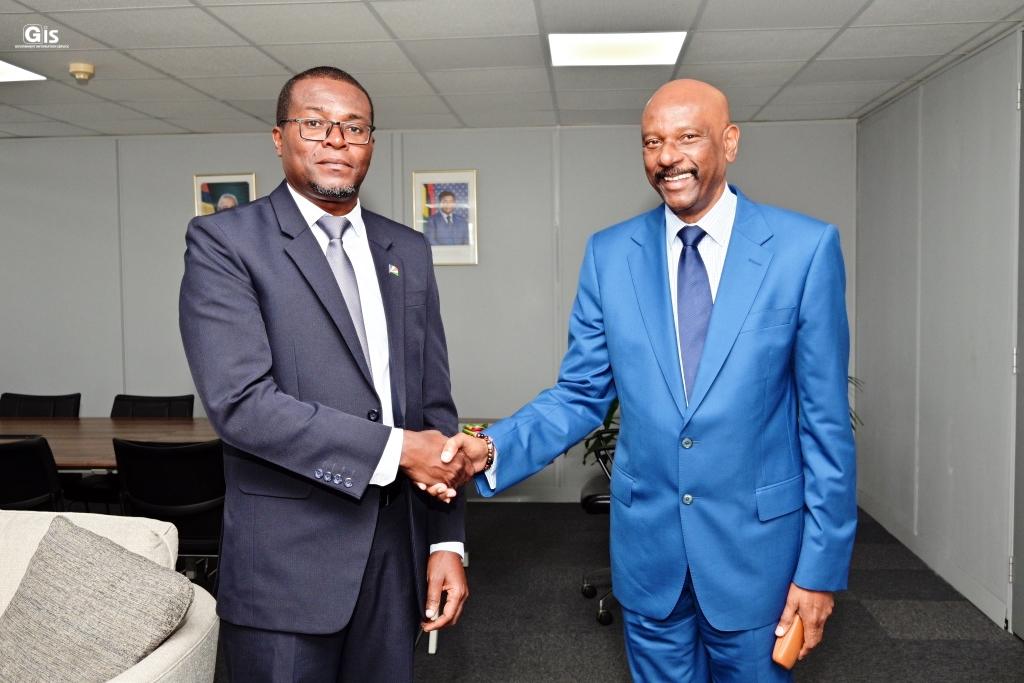 Africa-Press – Mauritius. The Minister for Agriculture, Climate Change and Environment of Seychelles, Mr Flavien Joubert, and his delegation, met with the Minister of Energy and Public Utilities, Mr Georges Pierre Lesjongard, this afternoon, in Port Louis.
They are currently on a mission in Mauritius from 28 July 2022 to 30 July 2022 to discuss on a project with Mauritius under the Sustainable Development Goals' Fund on how to address energy issues in Mauritius and waste issues in Seychelles.
In a statement, Minister Joubert highlighted that the meeting with Minister Lesjongard was cordial and fruitful. Discussions, he underlined, focused on the commonalities that Mauritius and Seychelles share, including: our targets for energy efficiency and incorporating renewable energy into the national energy supply.
Mr Joubert indicated that challenges as regards the water and wastewater sector were also outlined during the meeting. These include: the possibilities of calling upon Mauritius for training their technicians in wastewater and exchanges of ideas on approaches to non-revenue water loss in the water networks of both countries.
"We also talked about the need for infrastructure development for both our countries in order to ensure that our electrical infrastructure can accommodate increased level of renewables and its consequence on the tariff," the Minister stressed.
In addition, he emphasised that there is a great possibility for both countries to collaborate and support each other globally when it comes to developing projects that would address issues in both countries.
"I specifically queried about the programmes that Mauritius has as regards solar water heating which is something that we have had in Seychelles and would like to reactivate now with the renewed emphasis on increasing energy efficiency and reducing use by domestic entities," Mr Joubert stated.
Mr Joubert was appointed Minister for Agriculture, Climate Change and Energy on 04 November 2020. Since 1996, Mr Flavien P. Joubert has worked in the Ministry of Environment and has occupied several key posts including Director General for Wildlife Enforcement and Permits, Chief Executive Officer (CEO) of the Seychelles National Parks Authority, and CEO of the Landscape and Waste Management Authority.
Mr Joubert has served on several boards such as the Planning Authority and Seychelles Petroleum as company Director and on Boards of national importance such as the Pesticide Control Board, Licensing Authority and Seychelles islands Foundation.
Through his university studies, he rediscovered one of the rarest bat species in the country, and has, throughout his time at the Ministry, promoted research and conservation on the bat species.
He has co-written two papers on that subject and implemented several initiatives as regards chemical safety in Seychelles. On the international arena, Minister Joubert has represented Seychelles in many fora related to chemicals and waste and acted as a focal point for the Basel and Stockholm Conventions. He also led the organisation of the Nairobi Convention 8th conference of Parties meeting in 2015.
For More News And Analysis About Mauritius Follow Africa-Press