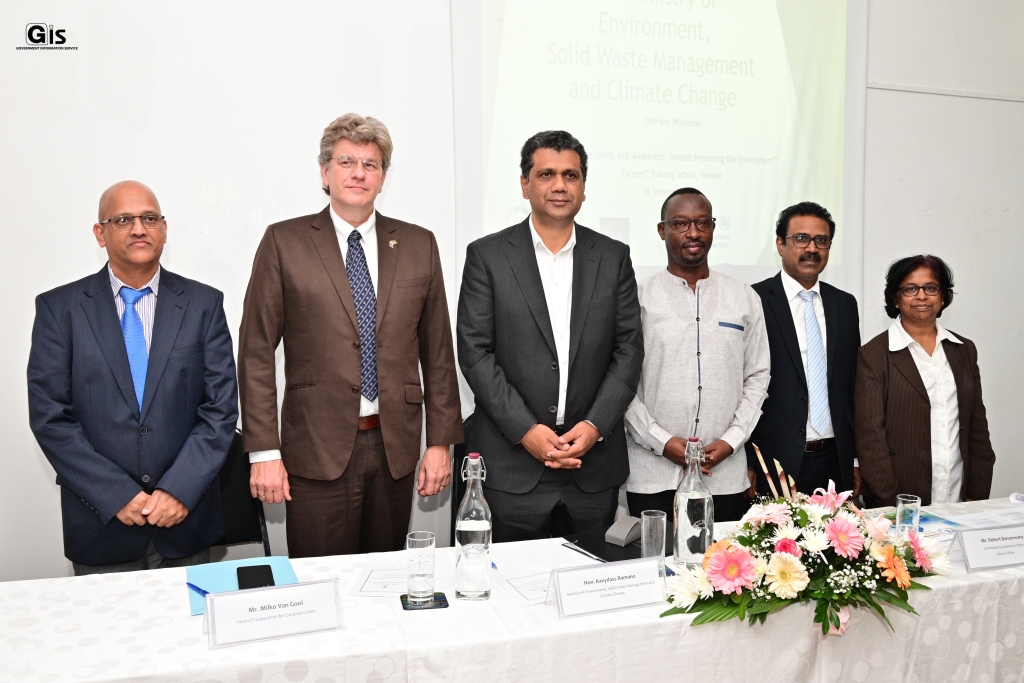 Africa-Press – Mauritius. The Government has taken several measures to regulate, control and monitor the importation and use of pesticides in Mauritius, said the Minister of Environment, Solid Waste Management and Climate Change, Mr Kavydass Ramano, this morning, at the Farmers' Training School, in Wooton. He was speaking at the opening ceremony of a one-day workshop that focused on "Pesticide Safety and Awareness: Towards Preserving the Environment".
The objective was to raise awareness on the effects of pesticides on the environment and agriculture and to promote safety and awareness on the use of pesticides among farmers. The workshop is being held under the EU funded SWITCH Africa Green Project and is implemented through the United Nations Environment Programme (UNEP). Around 100 participants, including 50 farmers attended.
It was facilitated by resource persons from the following organisations: Ministry of Environment, Solid Waste Management and Climate Change; Water Resources Unit; Pesticides Regulatory Office, Ministry of Agro-Industry and Food Security; Mauritius Cane Industry Authority; and, Food and Agricultural Research and Extension Institute.
Presentations focused on: National Environmental Laboratory; Farming without the use of pesticides (myth or reality?); Water resources in Mauritius; Regulatory aspects for the use of pesticides in agriculture; Herbicides use in sugarcane – Technical achievements to further safeguard the environment; Use of pesticides in the non-sugar sector; and, Use of pesticides in crop production – A farmer's approach.
In his address, the Environment Minister recalled that his Ministry embarked onto the "SWITCH Africa Green Programme Phase 2" following the signature of a Small-Scale Funding Agreement in February 2021 with the UNEP. A consultancy service, he highlighted was provided by the UNEP to conduct a gap analysis and for the development of a framework to support the pesticide residue testing unit at the National Environmental Laboratory (NEL) for the environmental monitoring of pesticide residues in surface and ground water.
The Government is investing around Rs 38 million in this project, under the National Environment and Climate Change Fund, said the Minister. As at date, the NEL has acquired a Gas Chromatograph–Mass Spectrometer at the cost of around Rs 8M, for analysis of certain groups of pesticide residues in environmental samples, he indicated.
Moreover, Mr Ramano pointed out that Rs 28 million has been allocated in financial year 2022/23 for the acquisition of a Triple Quad Liquid Chromatograph system to analyse other categories of pesticides. In addition, he emphasised that a road map for monitoring of pesticides has been devised, which consists of water samples from 39 river sites and 52 boreholes to be analysed. This will be done in a phase wise manner over three years, he added.
Besides monitoring, the Minister informed that the Government is also sensitising manufacturers, distributors and farmers with regards to the safe handling and use of pesticides, since it is the responsibility of one and all. As long as the pesticides will be used indiscriminately, problems like pest resurgence, pesticide residues, secondary pest outbreaks, health hazards to humans and other environmental effects will be there, he cautioned. Therefore, it is critical to make safe and judicious use of pesticides, that is, using recommended pesticides, at recommended times and in recommended doses, while taking care of all the safety precautions, he underscored.
In Mauritius, around 3,200 tonnes of pesticides (including insecticides, fungicides and herbicides) were imported during the period of 2018 to 2021 for agricultural use.
For More News And Analysis About Mauritius Follow Africa-Press