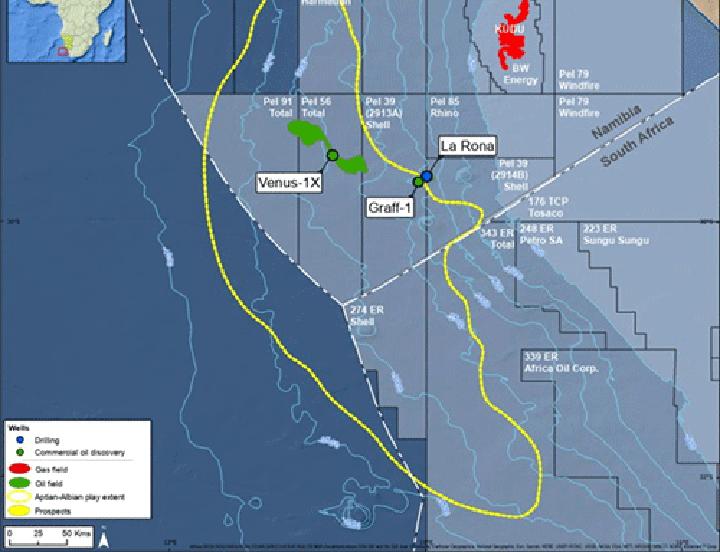 Africa-Press – Namibia. The mines and energy ministry this week cautioned that information making the rounds in the oil industry of yet another oil discovery in the Orange Basin is purely speculative.
This is because verification of the latest discovery by Shell at its Jonker-1 well is still ongoing by the international oil major, and, information of the find was shared by industry sources other than the ministry or the joint venture partners involved in the exploration.
"Our position is that the drilling of the Jonker-1 well is ongoing, and that as soon as the drilling is completed, the public will be informed of the drilling outcome," explained mines and energy spokesperson, Andreas Simon, in response to New Era questions.
The ministry's cautionary response comes after oil industry insiders earlier this week became excited that Shell made a second major discovery of hydrocarbons, which are the main components of oil and gas, in the Orange Basin. The Orange Basin is located off the south-western coast of Africa and covers an extensive area of approximately 160 000 square kilometres.
If confirmed, this latest discovery will be Shell's second major find in the Orange Basin, relatively close to where TotalEnergies last year also confirmed a major discovery of light crude. The recent oil discoveries are a long-awaited breakthrough for Namibia, and potentially also for South Africa, into which the Orange Basin extends.
According to industry insiders, Shell's Jonker-1 well made the hydrocarbon find early this year in a different geological area to its previously successful Graff and Rona wells where it confirmed significant discoveries last year.
Shell currently operates Petroleum Exploration Licence 0039, which covers blocks 2913A and 2914B, with a 45% working interest. QatarEnergy also has a 45% stake while state-owned National Petroleum Corporation of Namibia (Namcor) holds 10%.
Meanwhile, the TotalEnergies Venus discovery is approximately 325km off the Namibian coast and is situated in about three kilometres under water.
If the Venus well comes into production, it will be the world's deepest water development to date. This will be 100 metres deeper than the world's current deepest water development by Shell at Stones in 2 900m of water in the United States of America's Gulf of Mexico. Deeper water adds considerable cost and engineering complexity to the installation and operation of any hydrocarbons development. This means any discovery will have to be a significant resource to be commercially viable if in a water depth of 3 000 metres or more.
Meanwhile, to bolster its search activities into what has become an exploration hotbed in the Orange Basin, Shell spent over N$2 billion to secure the services of the semi-submersible rig, called the Deepsea Bollsta, for a year, with an option to extend the services for another six months if necessary.
In the online update, Upstream noted the rig commenced with drilling in mid-December last year.
"The probe is chasing a different geological play to the Upper Cretaceous light oil discoveries made last year by Shell's Graff-1 and La Rona-1 exploration wells.
Instead, Jonker-1 is targeting an eastern extension of the Lower Cretaceous oil and gas play that TotalEnergies hit with its Venus-1 probe in adjacent Block 2913B in 2022, potentially Africa's largest ever offshore discovery," read an article in online publication, Upstream.
Three informed sources told Upstream recently that Jonker-1 has hit hydrocarbons in a shallow reservoir, offering significant encouragement for what may yet be found in the probe's deeper primary objective.
For More News And Analysis About Namibia Follow Africa-Press