Africa-Press – Seychelles. The outgoing Australian high commissioner to Seychelles, Dr Kate O'Shaughnessy, paid a farewell call on the Minister for Agriculture, Climate Change and Environment, Flavien Joubert,at the ministry's secretariat on Monday afternoon.
Minister Joubert thanked HC O'Shaughnessy for the support and effort that she has given
Seychelles, especially when it comes to the fight against climate change.
He further stated that the new government is willing to go further and rejuvenate their relationship with international partners.
Minister Joubert further expressed his gratitude to the high commissioner for Australia's sincere commitment in assisting small island developing states who are struggling with the impact of climate change.
HC O'Shaughnessy expressed her gratitude to Minister Joubert for the excellent cooperation
between the Seychelles and Australia, and reviewed some of the significant achievements of this partnership.
She also shared her recent discussion with the team from the Ministry of Fisheries and Blue
Economy that day, whereby they are identifying areas for collaboration to help Seychelles achieve its target in the Blue Economy.
Minister Joubert and HC O'Shaughnessy also discussed areas for future collaboration around the Blue Carbon and Marine Spatial Plan.
The high commissioner also presented certificates to two Seychellois – George
Uzice and Mamy Razanajotovo – who have successfully completed the Australia Awards Virtual
Short Courses on Climate Change Adaptation & Mitigation and the Grid Integration of Renewable Energy which were run by the Australian National University (ANU) in April and May 2022.
HC O'Shaughnessy noted that this process and training is an example of how Australia is willing to groom more local professionals in the related field so they can use their knowledge and assist in local consultations.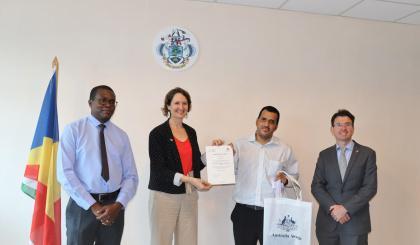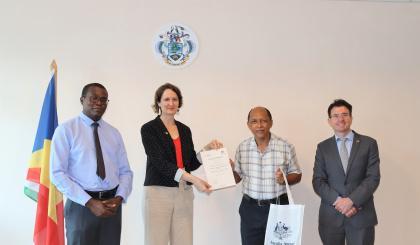 For More News And Analysis About Seychelles Follow Africa-Press