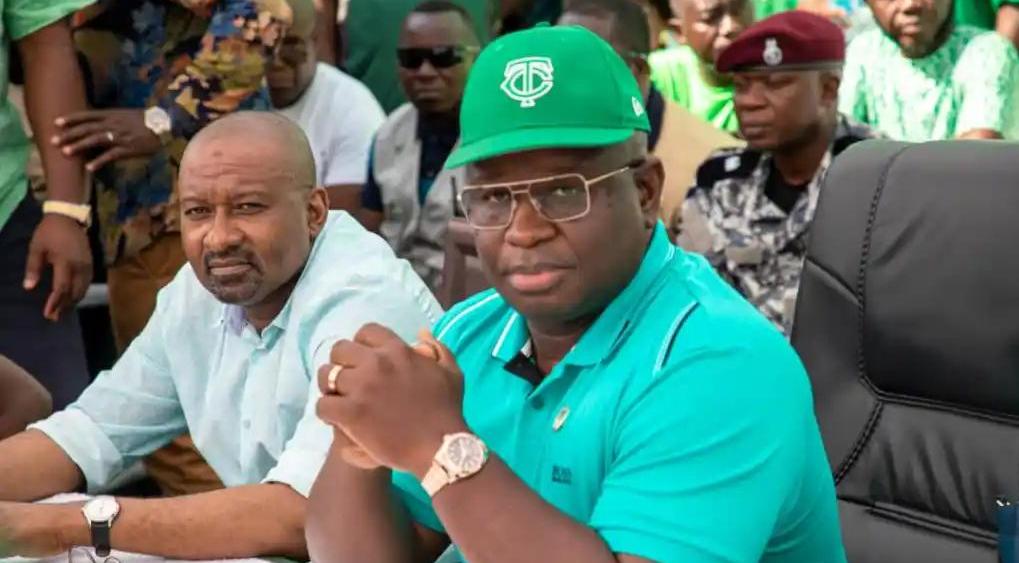 Africa-Press – Sierra-Leone. His Excellency President Dr Julius Maada Bio has received declarations in Kambia District from a two-time former Member of Parliament, MP, Alieu Badara Munu Kamara, Councilors for the opposition All People's Congress, APC and five Councilors of the National Grand Coalition, NGC.
Also, among the people who came out on that day to assure of their support to the President, were former teacher coordinators for the APC and stakeholders in the Tonko Limba Chiefdom, who openly consented to lead the June 2023 elections campaign for the SLPP party in that part of the country.
Hon. Alieu Badara Kamara said he started politics with the APC when the district used to have three constituencies, revealing that in 1982 he was the person who nominated Hon. Ibrahim Sorie to become a Member of Parliament. He added that he was declaring for the SLPP because of the many tangible developments that were taking place in their district, noting that his former party was unable to deliver for them.
Councillor Abdulai Yoko Kamara of NGC said he had declared, along with five other former councilors, for the SLPP because President Bio's development had no boundaries and that their women and girls had regained their respect in society.
"There have been absolutely no reported cases of rape or any other forms of violence against women. We are enjoying more electricity under this government than at any other time in the history of this district, even when we are running an opposition Council in the Kambia District," he recalled.
Former NGC female Councillor, Isata Sesay of Ward 203, described the day as historic. "I am declaring for the SLPP because of President Julius Maada Bio's political will and commitment to pass the GEWE Act into law, which constitutionally allows women to hold a 30 percent quota in politics.
"Before now, our girls celebrated pregnancy after their external examinations. But your government has liberated us, the mothers. We are happy and satisfied as you have given the women of Sierra Leone everything. Against that background, if we the women of Sierra Leone failed, in our duty, to vote for you with the highest margin, we will be making the greatest mistakes of our lives. Posterity will not forgive us," she said.
Former APC vigilante group leaders, Abdulai Salifana Bangura, Ibrahim Sahid Sesay and Jacob Conteh, as well as former APC Councillor Kadiatu Bangura, the APC Teachers coordinating group, Councillor Mohamed Salam Kamara and other Tonko Limba stakeholders and supporters, were all present and publicly supported President Bio and assured that the district would vote overwhelmingly for him in the June elections.
"I am here as the head of the district coordinator with 342 coordinators and our supporters to declare support for President Bio's SLPP for the many developments his government has brought to our district," said Alimamy Hassan Kamara, a former member of the APC Teachers Coordinating Group, also known as the 'Psalm 23 Group'.
"We are here to declare our unconditional support to the SLPP with all our hearts and without attachment and be assured that we are here to bring all our expertise to support the SLPP to transform our district and the country at large," he concluded.
President Julius Maada Bio welcomed them and said, "I want to personally welcome all our brothers and sisters who have taken the big decision to come home because the SLPP party is a party for all Sierra Leoneans, particularly for the Kambia people. As a party, we stand for nothing but the development of Sierra Leone, which I am certainly sure has encouraged you all to come back to your party.
"As the President of Sierra Leone and Leader of the SLPP, I am assuring all of you to feel free and feel at home as we plan to ensure that we cater to all of your aspirations. I am happy that you have declared to work with the SLPP to help take development to your district. I am happy that history will remember all of you for joining the SLPP to develop Sierra Leone. Thank you," the president appreciated.
For More News And Analysis About Sierra-Leone Follow Africa-Press