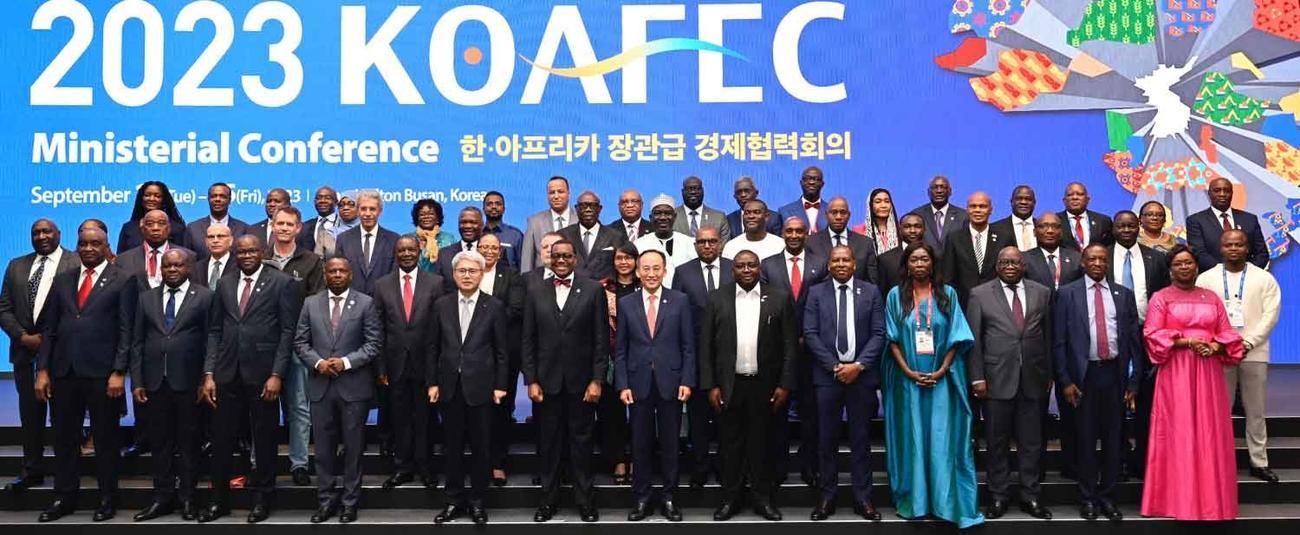 Africa-Press – Sierra-Leone. The 7th Korea-Africa Economic Cooperation (KOAFEC) Ministerial Conference opened in Korea's second-largest city, Busan, on Wednesday with a strong call for additional resources to help African countries achieve universal access to energy and transform the continent into the breadbasket of the world.
The conference is taking place at a time when Africa is facing a plethora of challenges. Nearly 600 million people on the continent have no access to electricity. In addition, despite rapid growth across the continent, hunger is still pervasive in some countries, affecting some 283 million people. The Russia-Ukraine war has exacerbated this figure. So also has the lingering effects of the Covid-19 pandemic and climate change.
This is why Korea and African nations, under the aegis of KOAFEC, have agreed to deepen their cooperation with much more emphasis on mutually beneficial investment.
The African Development Bank Group and the Ministry of Economy and Finance of the Republic of Korea are co-hosting the three-day conference under the theme "Embracing a Sustainable Future: Just Energy Transition and Agricultural Transformation in Africa." This embraces these two critical development priorities for Africa.


Korea's Deputy Prime Minister and Minister of Economy and Finance, Kyungho Choo, underlined the crucial role that Korea and Africa must play. He highlighted Korea's strength in high-tech industry and innovative technology. He also pointed to the great many opportunities that Africa offered as the world's future market and industrial base with a vibrant young population.
"Together, our two worlds can become the most solid rock of solidarity," he told the meeting, stressing the need for Africa and Korea to strengthen cooperation.
In his opening remarks, African Development Bank Group President Akinwumi Adesina urged delegates to seize the conference as a critical opportunity to galvanise support for several objectives: achieving universal energy access in Africa, advancing a just energy transition and transforming the African continent into the breadbasket of the world.
"Doing so will require additional resources," Adesina said. He said the anticipated reallocation of the International Monetary Fund Special Drawing Rights (SDRs) to the African Development Bank was the key to attracting additional resources to develop Africa.
The African Development Bank chief urged Korea to join other countries that have expressed strong interest in reallocating SDRs to the African Development Bank Group.
"This will be a game changer for Africa's development," Adesina declared.
Choo summarised Korea's priority areas for support to Africa as "ABC"—agriculture, bio-health, and climate change, as well as energy transition. He said Korea also planned to significantly increase its official development assistance.
Choo said that in cooperation with the African Development Bank, Korea supported energy projects for Africa's sustainable development. "We are also working to support Africa's growth as outlined in the African Development Bank's High 5s development priorities," Choo said. "As a true partner, Korea will continue to support Africa's development," he said.
Adesina described the KOAFEC conference as a good opportunity to discuss progress on relations between Korea and Africa, development challenges and opportunities in Africa, and a chance for all parties to continue to work together to accelerate the growth and development of Africa.
"Africa must be a solution to feeding the world, as it has 65% of the uncultivated arable land left in the world," he told delegates, adding: "What Africa does with agriculture will therefore determine the future of food in the world."
Adesina commended the Korean government for its K-Rice Belt initiative, which will support eight African countries in producing 30 million tons of rice.
The initiative aligns with the African Development Bank's Feed Africa strategy and the outcome of Dakar 2 Food Summit early this year. The Bank is intent on Africa achieving food self-sufficiency within five years.
The K-Rice belt project also has parallels with the African Development Bank's flagship Technologies for African Agricultural Transformation (TAAT) programme. The TAAT Rice Compact continues to collaborate with the Korea-Africa Food and Agriculture Cooperation Initiative (KAFACI) through AfricaRice. TAAT supports KAFACI's network of 13 African countries through workshops, joint planning, and regular interaction.
The African Development Bank has launched a $650 million rice programme to support 15 African countries in their quest to produce 53 million tons of rice by 2025.
"This presents an excellent opportunity for Korea to work together with the African Development Bank on a pan-African rice production initiative," the Bank president said.
The African Development Bank is preparing a regional operation to finance the Regional Rice Resilient Value Chains Development (REWARD) programme in West Africa. Through this programme, the Bank will provide $650 million to the 15-member countries of the Economic Community of West African States (ECOWAS).
REWARD targets double cropping and yields on 750,000 hectares of irrigated land. One million rice farmers will benefit, and 30% of these farmers are women. The initiative will push total paddy production to 10.5 million tons per year or 53 million tons by the end of the five-year programme in 2028.
The African Development Bank is to work closely with K-Rice Belt on this programme.
Korea has been a strong and consistent supporter of the African Development Bank Group. The country strongly supported the Bank's general capital increase in 2019.
Korea also pledged $105 million to the 16th replenishment of the African Development Fund; the highest amount ever pledged to the Fund.
The Korea Trust Fund and the $600 million Korea-Africa Energy Investment Framework will support African countries in strengthening human capacity and developing their energy sectors.
Adesina noted that for African countries to collectively meet the Sustainable Development Goals by 2030, the continent required an investment of $2.3 trillion. He highlighted limited access to electricity as a significant hurdle, pointing out that this was a commodity still beyond the reach of nearly 600 million people.
He said much progress had been made since the African Development Bank launched its New Deal on Energy for Africa in 2016. He explained that while the percentage of those with access to electricity had since increased from 35% to 56%, there was still much to do.
"To achieve universal access to electricity, we must add 90 million people annually by 2030. We must also add 130 million people annually to achieve universal access to clean cooking energy," Adesina said.
He said Africa had enormous renewable energy potential, including 11 terawatts of solar—the highest in the world—of which only one percent was used. Adesina also said the African Development Bank invested heavily in renewable energy, with the share of renewable energy in its power generation portfolio now standing at 87%.
The Bank president emphasised, however, that it would be impossible to provide universal access to electricity for Africa relying only on renewables because of their high intermittent and variability, which negatively affected reliability for industrial use.
"As we think of Just Energy Transition, Africa must not be denied the opportunity to use its natural gas, which it now has in abundance from new discoveries. Doing so will not add to climate crisis. Rather, it will reduce emissions in Africa," Adesina said.
He told the audience that the African Development Bank was participating in the Just Energy Transition Partnerships in South Africa and Senegal ($2.5 billion) with the European Union, the United States, the United Kingdom, Germany, and France.
He explained that the Bank would support the South African Just Energy Partnerships through a $1 billion guarantee facility from the United Kingdom, adding that the institution also supported efforts to develop more bankable projects through its New Partnership for Africa's Development (NEPAD) Infrastructure Project Preparation Facility and Africa50.
The African Development Bank chief concluded: "Africa's future is bright. And it will be brighter still with a strong partnership with South Korea. Let us accelerate Africa's growth and development together. Let us succeed together."
Dr. Hwang-yong Kim, Director General of Technology Cooperation Bureau, Korea Rural Developent Administration, indicated there was every reason for confidence that African countries could emulate Korea's successful development trajectory. He explained that in the 1960s, after the Korean War, the country was one of the poorest nations in the world—Korea even received assistance from some African countries, said earlier Dr Adesina. Kim noted that through its transformative agriculture, Korea has since become one of the largest economies in the world.
The 7th KOAFEC Ministerial Conference brings together many important stakeholders in Africa's development. This includes 33 African finance ministers and African Development Bank executive directors representing African member countries, African ambassadors, heads of pan-African institutions, and various non-governmental organisations, as well as African CEOs and Korean private sector leaders.
For More News And Analysis About Sierra-Leone Follow Africa-Press