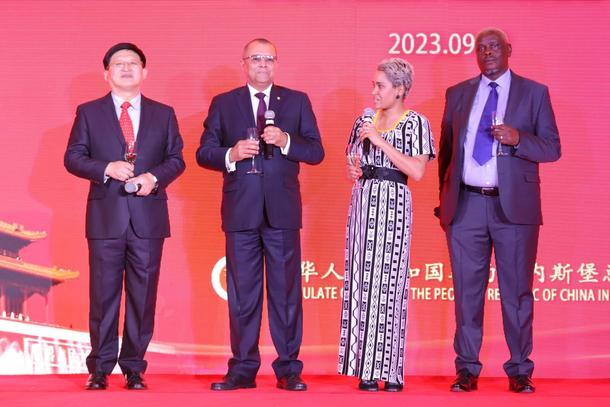 Africa-Press – South-Africa. Consul General of China in Johannesburg, Tang Zhongdong is returning to Beijing this month, after working as a diplomat at the Embassy of China in South Africa, before being appointed to lead the Chinese Consulate General in Joburg.
A prestigious farewell event was held in Joburg, where South African government officials, opposition party leaders and members of the ruling African National Congress (ANC) paid tribute to the Chinese diplomat.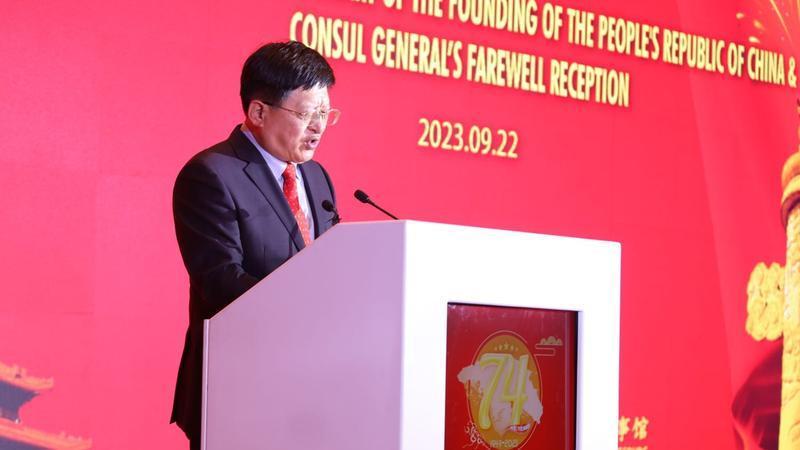 In his farewell speech, Tang said South Africa has carved an indelible mark on his diplomatic career, and when he resettles back in China, he would work on promoting the brand South Africa.
"My diplomat term as the consul general is coming to an end by this month and will fly back to China soon. I have been working in South Africa for almost seven years, a fairly long period for a diplomat career. Before becoming a diplomat, I was a senior executive in a State-owned enterprise, and in 2015 I had the great honour to be selected by the government to join the diplomat line," said Tang.
"All of my diplomat career up to now is in South Africa. I arrived in Pretoria in November 2016, and served as the political counsellor in the Chinese Embassy (in Pretoria) until July 2019. From October 2019, I took the position of Consul General in Johannesburg until today."
Approximately 80 percent of local Chinese people live in Gauteng and Free State province, areas which are serviced by the Chinese Consulate General in Joburg.
"While we celebrate the development of our two relations, we should never forget the support and contribution by the Chinese communities in these two provinces. They made great inputs to the success of president Xi's visit to South Africa and this BRICS summit," he said.
"I am deeply impressed, they have always carried forward the traditional Chinese virtues of being hard-working and generous to others. They've done great works helping both the vulnerable groups in local neighbourhoods in South Africa, and the disadvantaged people in China. And many of the people do so anonymously."
Tang also paid tribute to Chinese associations and volunteers in South Africa who are at the forefront of protecting the safety, legitimate rights and interests of Chinese citizens in cooperation with his office.
During the past seven years, Tang said his feeling for South Africa developed through different phases, until an ultimate period where became familiar with the nation, and finally falling in love with the country.
"Imperceptibly this great country has left many marks on me, even to say changed me a lot positively. South Africa has the most valuable cultural heritages, the richest tourism and mineral resources, the longest road network, the largest stock exchange and the busiest airports and seaports in Africa continent," he said.
"The South African wines, Rooibos tea and Aloe gel are now hot sales in China, and also the ideal gifts for my friends when I go back to China every time. The perfect combination of the ancient and the modern, nature and human culture gives South Africa its unique charm."
Tang commended South Africa as one of the most important political and diplomatic centres in Africa. He saluted Pretoria's role as an important force for peace on the continent which actively participates in the mediation of conflicts in Africa, and continues to contribute to the settlement of international disputes.
With cordial relations blossoming between Beijing and Pretoria, Tang said he is delighted to observe that more and more Chinese students are coming to South Africa to learn the local languages and culture, forming bridges of people-to-people exchanges between the two nations.
"Despite some social problems, I believe that under the leadership of the ANC, South Africa will be able to overcome all the difficulties, find out its own path of modernization and have a better future. I have mentioned many times to my local friends that when I retire, I will certainly come back to have a look at again, or even settle in Johannesburg. South Africa has become my second home," he said.
"The past seven years has been an unforgettable time in my life. During this period, I have turned from a business executive to a diplomat and made many new friends. As the time of leaving comes close, I am reluctant to part with you.
"I would like to express my sincerest gratitude to all those who care about China's development and support China-South Africa friendship, and to all those who have provided me with support and assistance in performing my duties. Dear friends, today is both an end and a new start. I look forward to hearing more good news about China-South Africa relations and the modernization of our respective countries," said Tang.
The celebrations held at Sandton, Johannesburg coincided with the festivities marking the 74th anniversary of the founding of the People's Republic of China.
Bilateral relations between South Africa and China have leapfrogged from a partnership in 1998 to a strategic partnership in 2004, and then to a comprehensive strategic partnership in 2009.
Trade between the two countries reached US$56.7 billion last year, achieving five percent growth against the sluggish world economy.
For More News And Analysis About South-Africa Follow Africa-Press