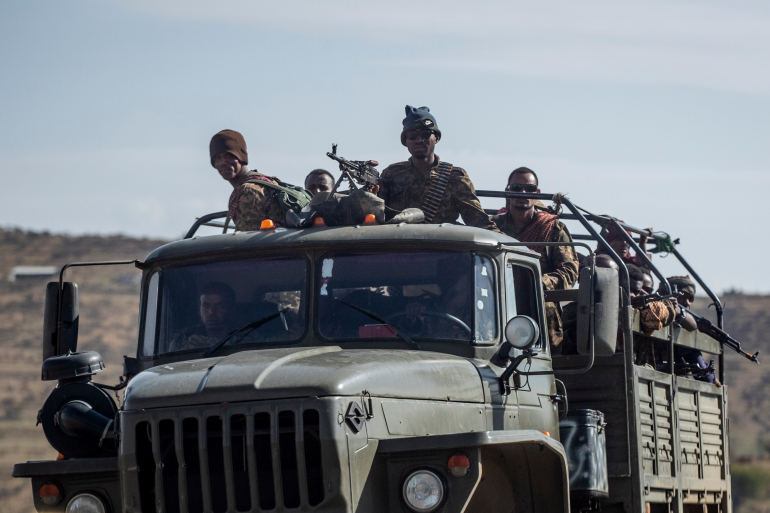 AfricaPress-eritrea: Tigrayan rebels vowed to hunt down Ethiopian and Eritrean troops on the run around the regional capital, Mekelle, on Wednesday after taking full control of the city in a sharp reversal of eight months of war.
People in Mekelle said the incoming Tigrayan fighters were greeted with cheers. There were similar scenes on video footage from the northern town of Shire, where residents said government-allied Eritrean forces pulled out and Tigrayan forces re-entered.
The Ethiopian government declared a unilateral ceasefire on Monday after the Tigray People's Liberation Front's (TPLF) territorial gains.
However, Getachew Reda, a TPLF spokesman, said the ceasefire was a "joke" and hundreds had been killed in fighting near the border with the Afar region, information that could not be independently verified.
Getachew told Al Jazeera's Catherine Wambua on Wednesday that rebel forces would not stop fighting until the entire region was liberated.
"Getachew says even if [Tigray] forces are making good gains and pushing back opposing forces, the Ethiopian military – backed by Eritrean forces and Amhara fighters – still control large swaths of Tigrayan territory," Wambua said.
"The aim of the Tigrayan forces is to push back to make sure that every inch of Tigray is in their control."
Lieutenant-General Bacha Debele told reporters on Wednesday the Ethiopian army left Mekelle because it needs to prepare for threats other than the rebels.
"The TPLF is no more a threat but we've got [a] more national threat that we need to shift our attention to," Debele said, without elaborating.
The Ethiopian army could re-enter Mekelle within weeks if needed, the government said.
"Ethiopia is exposed to an attack from outsiders" because of the conflict, Redwan Hussein, spokesman for the Ethiopian government's task force for Tigray, told reporters in an apparent reference to Sudan.
Redwan described the ceasefire as a political decision "made for humanitarian cause". "If it is required, we can easily enter to Mekelle and we can enter in less than three weeks," he said.
Cross-border pursuit
Over the next few days, TPLF forces will go after soldiers allied to the government from the neighbouring Amhara region – in the south and west – and from the neighbouring nation of Eritrea in the north and northwest of Tigray, Getachew said, adding they would cross borders in pursuit if necessary.
The fighting in Ethiopia's northern region has killed thousands of people and displaced two million.
As the United States warns up to 900,000 people in Tigray face famine conditions in the world's worst hunger crisis in a decade, little is known about vast areas of Tigray that have been under the control of combatants from all sides since November.
With blocked roads and ongoing fighting, humanitarian groups have been left without access.
The US said atrocities should end immediately and warned Ethiopia and Eritrea that Washington would be watching closely.
"We will not stand by in the face of the horrors in Tigray," said Robert Godec, acting assistant secretary of state for the State Department's Bureau of African Affairs.
State Department spokesperson Ned Price said in a statement the truce declaration could be positive if it led to steps to "to end the conflict, stop the atrocities, and allow unhindered humanitarian assistance".
He reiterated a call for the withdrawal of Eritrean forces from Ethiopian territory as a necessary step for a durable ceasefire.