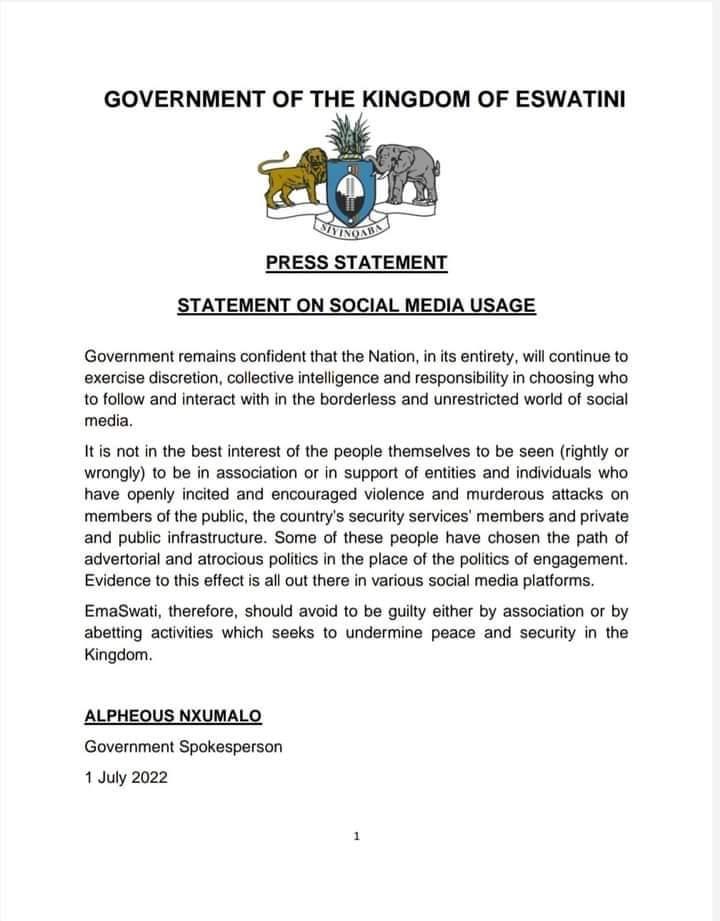 Africa-Press – Eswatini. Alpheous Nxumalo, the Government Spokesperson has warned members of the public against following individuals and entities that encourage violence.
The statement comes a few days after Prime Minister Cleopas Dlamini declared Swaziland News and editor Zweli Martin Dlamini as terrorists for being critical against King Mswati's regime.
"Government remains confident that the Nation,in its entirely, will continue exercise discretion, collective intelligence and responsibility in choosing who to follow and interact with in the borderless and unrestricted world of social media. It is not in the best interest of the people themselves to be seen(rightly or wrongly), to be in association or in support of entities and individuals who have openly incited and encouraged violence and murderous attacks on members of the public, the country's security services members and private and public infrastructure. Some of these people have chosen the path of advertorial and atrocious politics in the place of the politics of engagement.
Evidence to the effect is all out there in various social media platforms. EmaSwati therefore, should avoid to be guilty either by association or by abetting activities which seeks to undermine peace and security in the Kingdom," reads the statement released by the Government Spokesperson.
For More News And Analysis About Eswatini Follow Africa-Press