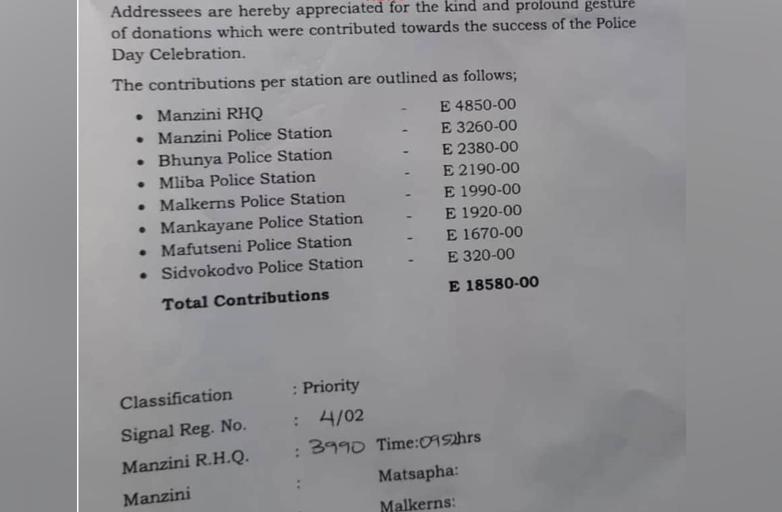 Africa-Press – Eswatini. Junior police officers allegedly refused to contribute over five hundred thousand Rands(R500,000.00) for Mswati's Police Day, only eighteen thousand Rands(R18,000.00 was collected from the Manzini region.
"Addresses are hereby appreciated for the kind and profound gesture of donations which were contributed towards the success of the Police Day Celebration," reads a memo from the Regional Commissioner directed to the Manzini Police Station.
The memo states that the Manzini region donated eighteen thousand five hundred and eighty Rands(R18,580.00).
Over six thousand(6000) police officers were Elz Ted to contribute one hundred Rands(R100,00) each and the amount was expected to reach over R500,000.00.
Superintendent Phindile Vilakati had not responded at the time of compiling this report.
Reached for comments, Sergeant Cebile 'Cece' Shongwe of the newly formed Police Union thanked the police officers for standing firmly for their rights.
"Before, there were few police officers who were known as PUDEMO members because all those who used to question the injustices were labelled as PUDEMO members by the Executive Command. Now, more officers are refusing to be intimidated and we urge them to continue standing firmly for their rights. We thank the Mass Democratic Movement(MDM) and the independent media for their continued efforts to enlighten the police officers," she said.
For More News And Analysis About Eswatini Follow Africa-Press