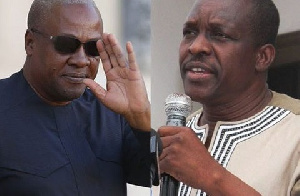 Former President Mahama and Alban Bagbin
Discount on your flight to the US or EuropeBook via this link and receive US$ 50 discount!
Deputy Minister for Defense, Major (retired) Derrick Oduro has called for the immediate arrest and prosecution of former President John Mahama and Second Deputy Speaker of Parliament, Alban Sumana Kingsford Bagbin over unsubstantiated claims government is training thugs at the military installation at Asutuare. 
"They should get them arrested for creating fear and panic," the Minister instructed the security agencies in the country when commenting on the development in an interview MyNewsGh.com monitored on Kumasi FM.
According to the ex-military officer, it is highly impossible for anyone to have access to any military camp or installation to receive training as being claimed by former President John Mahama and other opposition National Democratic Congress (NDC).
"It is a lie that the thugs are being trained and we should get them arrested and prosecution so that they will bring evidence", Major (retired) Derrick Oduro told host, Nana Yaw Mensah Joel during a telephone interview.
The opposition National Democratic Congress (NDC) has said there is evidence to support allegations by former President John Dramani Mahama that the ruling government is training thugs to disrupt the 2020 general elections.
Communications Director of the New Patriotic Party (NPP) and Member of Parliament (MP) for Adenta Constituency, Yaw Buaben Asamoa, has described President Mahama's assertions that the party is training thugs to destabilize 2020 elections as "nonsensical".
"Obviously, candidate Mahama is trying to court leading figures in our society. Religious leaders, business persons, professionals, public and civil servants, academics, traditional authorities, students, trade unionists, journalists, security servants, and many others. He is entitled to do so. But the least this beloved country deserves is constructive engagement. Quality policy alternatives. The NPP is eagerly waiting for John Mahama's' policy on anything.
Meanwhile, the NPP is fully harnessed into the unfolding program of H.E. President Nana Akufo-Addo…
….Mahama misled the people when President and now misleading them with lies in opposition," Lawyer Buaben Asamoah stated.
But the NDC has maintained that there is evidence to support the claims of the candidate.