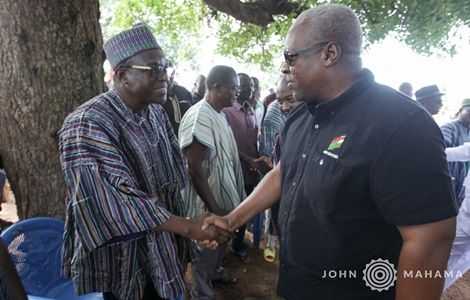 Second Deputy Speaker of Parliament, Alban Bagbin has revealed he played a significant role in John Mahama's ascent to the Jubilee House. According to the Nadowli Kaleo MP, he convinced the former President of his chances at the top job at a time when he [Mahama] himself wasn't keen.
"I invited him [Mahama] in 2005 and discussed it with him," he told Evans Mensah on JoyNews' PM Express programme on Tuesday, adding that, "it took three meetings before Mahama finally accepted.
"Mahama's close relatives are aware" of this development, according to Bagbin.
He said in his preparations of Mr. Mahama for the task, he organised a series of programmes that would bring him to the limelight. He would have Mahama deliver speeches on his behalf, all in a bid to market him, and "all that brought him up."
Bagbin said, however, he may not be the only one responsible for the former president's rise. Mahama partnered the late John Atta Mills to run for the Jubilee House and when Mr Mills died in 2012, took over and served one term as President.
Bagbin said his revelation is important because some party folk who are not aware of his contribution to Mahama's rise to the presidency couldn't appreciate his criticism of him.
He explained since he played a role in his rise to office, the onus lay on him to offer criticisms when needed.
"Besides, it is in my nature to criticise," he added.
What about now?
Bagbin says his criticisms have influenced Mahama.
According to him, John Mahama of 2014 is different from the Mahama of 2019.
His comments come as Mahama has been elected to lead the National Democratic Congress (NDC) into the 2020 general elections.
"There is a great improvement and he is really a better Mahama than before," Bagbin said.
"He has learnt to run with the people and now he consults the elders of the party on his decisions than before," he added.