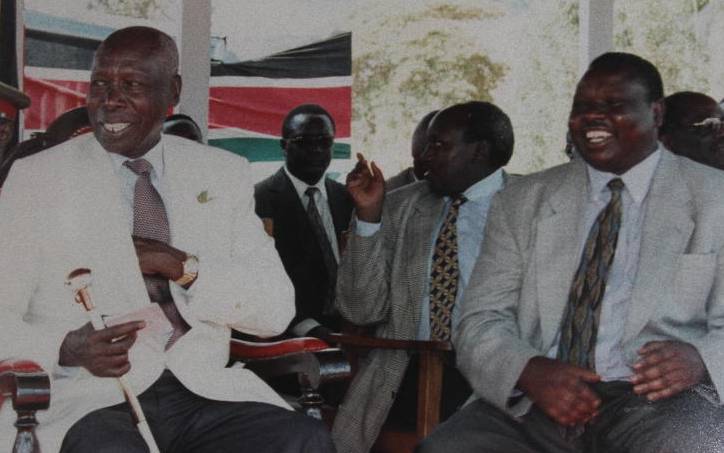 There are conflicting accounts on how former President Daniel arap Moi met political wheeler-dealer Mark Too, who was also known as Bwana Dawa (the medicine man) because of his hawkish ability to cut deals.
The late Eldoret North MP Reuben Chesire told journalists that Moi met Too when Tiny Rowland, a British businessman, visited State House.Tiny owned the East Africa Tanning and Extract Company (Eatec) that was headquartered in Eldoret. According to Chesire, Too worked as a tea boy at the company and was popular with his white bosses, hence his inclusion in the State House trip."He tickled the president with a remark when he was shaking hands with each member of the Eatec team. Later, after Tiny requested that locals be given a chance to serve in the management of the company, Moi pointed at Too and said he could do the job," said Chesire.
But the residents of Ngechek area of Nandi had their version of events. They recounted how Too had been employed by former Eldoret South MP Wilson Korir to milk cows in the mid-1970s when vice president Moi's motorcade got stuck in the mud.Brave introductionIt is alleged that Too approached the vehicle and when he noticed the vice president, he bravely introduced himself as the son of Kiptoo Kandie, a poor man from Salawa in Baringo, who had emigrated to Nandi in the 1940s to work as a herdsman, and requested for a job.
"Look for Sila Boit, the PS in the ministry of Home Affairs, and tell him to bring you to my office in Nairobi," Moi is said to have told Too.The milker is said to have returned home and told his employer how he met Moi and asked for permission to look for Boit. Korir helped Too to get in touch with the permanent secretary, who delivered him to the vice president.
Although Too was looking for a job, he declined to join the Prisons Department after he was told to report to Ruiru for training. He instead requested to be deployed to Nandi to help mobilise political support for Moi.By 1978, Too had become a close friend of Moi and when Tiny requested for a person who could become the Eatec chairman, he was the obvious choice.
When Tiny allegedly visited Masai Mara and requested Too's help to speak to the president, it is said Too amazed him by dialing Moi's hotline number and said, "Tiny is here and wants to speak to you."Moi is reported to have said, "Lete yeye kwenye laini (give him the telephone)."Little is known about Ezekiel Barng'etuny, his other confidant, apart from the fact that he rose to become a civic leader and later served as the Kanu Nandi District chairman.
Elders linked his relationship with Moi to his oratorical skills and power-brokering prowess, especially during fund-raising drives and church functions in Tinderet and other parts of Nandi.The two men belonged to the same age-set, Chumo, and shared much especially on cultural and local issues.