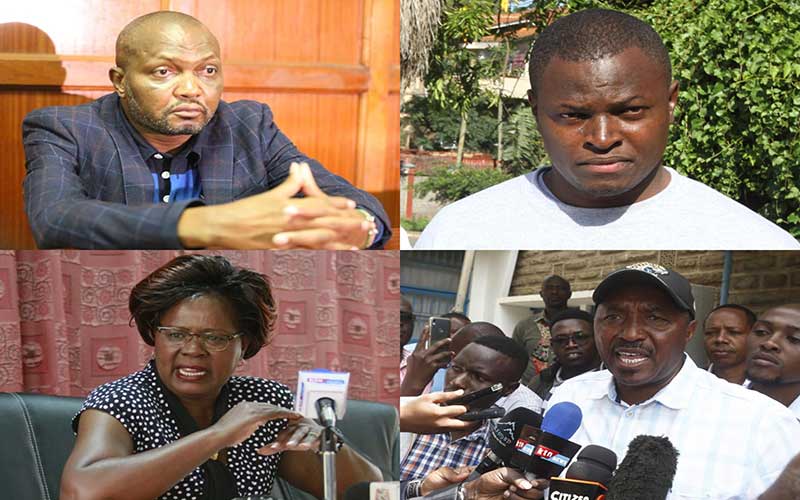 For years, some Jubilee loyalists cheered on as the government meted out injustice on Opposition supporters.
Their cheering of their adversaries' tribulations has now come back to haunt them. The MPs perceived to be in the Tangatanga wing allied to Deputy President William Ruto, have found themselves victims of a monster they helped create, with security personnel on their toes.The going within the ruling party has been tough for them to bear.
Government's wrath
Those who have tasted the wrath of the government include Moses Kuria (Gatundu South), Ndindi Nyoro (Kiharu), Alice Wahome (Kandara) and Kimani Ngunjiri of Bahati.
Just two weeks ago, Kuria was locked up at the Kilimani Police Station over assault claims. A court order granting him bail was disregarded by the police. Before he was released, his colleagues were dispersed using teargas, evoking memories of the treatment anti-government protesters endured in 2017.
Kuria's reaction immediately after release was one of shock and puzzlement that the government could disobey court orders, keeping him in custody yet he played a central role in getting President Uhuru Kenyatta re-elected."It is shameful that I am the one in custody and not (ODM leader) Raila Odinga. I went across the country seeking votes for Uhuru and (Deputy President William) Ruto yet it is not Raila in jail but me," he said.
To Kuria, the pact between President Kenyatta and Raila under the so-called handshake had made them outsiders in a government they campaigned for.In his hand was a book, Why Nations Fail, which seemed to send a not-so subtle message about his thoughts on the government, gaving an indication of just how far afoul of the State he has fallen.Kuria's predicament has helped refocus attention on the Executive's disregard of the Judiciary and the rule of law and awakened grumbles from even the DP himself that the State was acting out of turn."Public officers must respect court orders. Any public officer who disobeys court orders will bear personal responsibility in the fullness of time," Ruto said.
Yet the ironies of the current predicament of the Jubilee MPs allied to the DP are inescapable. Statements they made and positions they took a few years ago have become blots to their careers. While still in the Executive's good graces, the Jubilee allied MPs encouraged the deportation of outspoken lawyer Miguna Miguna and ignored rights violations against anti-government protesters.
Dramatic transformation
Just like the Biblical Paul, the band of legislators have had their road to Damascus moment and a dramatic transformation of their beliefs.In a complete about-turn of his argument two years ago that Kenya needed a dictatorship, Nyoro now says that President Kenyatta's government is autocratic."Our country is descending into a big abyss and we must stop it. Police are used to propagate political divisions," Nyoro has said.The MP said they had learnt their lesson after what they supported in the past, including their call for more use of force against ODM supporters who protested against the 2017 presidential election results, came to haunt them.
In a 2017 opinion piece in a local newspaper that has now come to haunt him, Ndindi waxed lyrical about dictators and their values."I have of late come to a point of entertaining thoughts that promote the opposite of freedoms and democracy," he said in the article published in August 2017 making a case for President Kenyatta clamping down on the Opposition.He is now part of those crying for the protections they encouraged the state to disregard.
"At that time we were sycophants but now we have realised it's true. Everything goes and comes around," Ndindi said recently.In September 2019, Nyoro was briefly arrested for causing disturbance at a church function and sensationally claiming that he was being persecuted for associating with DP Ruto.But it is Ms Wahome who has pointed a direct finger at President Kenyatta when she recently said the government was using the police to stifle democracy and voices of dissent.
Scathing review
"I want to condemn the people who are behaving like sycophants and pretending to be the ones that are protecting the President," Wahome said last week, offering a scathing review of her peers.The government that Ms Wahome is now calling autocratic is the same one she defended to the point of assaulting an Independent Electoral and Boundaries Commission (IEBC) officer in the October 26 repeat presidential election.On Tuesday last week, four Nakuru leaders – Senator Susan Kihika, Nakuru Town West MP David Gikaria, Martha Wangari (Gilgil) and Samuel Gachobe (Subukia) – were locked out of a presidential function in Nakuru. Wangari and Gachobe were later allowed into the venue where President Kenyatta was handing out title deeds
.The incident occurred on the same day that Agriculture Cabinet Secretary Mwangi Kiunjuri was dropped from the Executive in a Cabinet reorganisation announced from Mombasa.