Africa-Press – Lesotho. In an effort to curb the spread of Covid-19, Lesotho Red Cross Society (LRCS) in collaboration with Standard Lesotho Bank (SLB) on Wednesday, launched 30 tippy
taps at Mapholaneng taxi rank. LRCS President Silas Mosuhli revealed that SLB donated the sum of M217, 000 to LRCS to ensure the construction of the tippy taps at hot
spot areas in the districts of Lesotho while Petroleum Fund donated fuel amounting to M30, 000. Stanlib Lesotho also contributed M100, 000. Mokhotlong is the first district to get the taps and the
largest beneficiary of the sponsorship where six tanks will be built while other districts will get a minimum of three tippy taps each. According to SBL
media release, the tanks will be placed at crowded areas such as taxi ranks, chiefs' compounds, schools and government offices that serve large numbers.
Mosuhli thanked Petroleum Fund for their donation which will enable LRCS to reach all the designated places for erection of tippy taps and SBL for aiding
them to accomplish their mandate. He said there will be 30 tippy taps systems launched in all districts excluding Maseru and there are 6 places held in reserve for these
taps' construction in Mokhotlong. SLB Acting Head of Marketing Manyathela Kheleli said SLB is taking part in helping the country fight against Covid-19 pandemic and
launching tippy taps is one of their initiatives to help residents to adhere to the World Health Organization (WHO) regulations. Kheleli revealed that SLB has
allotted M1.5 million towards fighting Covid-19 pandemic and they have thus far used M1.3 million. "As the bank we understand that health is wealth hence our
reason to help. We are also rejoicing the new motto; "IT CAN BE" as we are celebrating 25 years of our services to Basotho this year," Kheleli outlined.
A street vendor at Mapholaneng Taxi rank Mohlalefi Kokoropo expressed their excitement as hawkers and passengers and also thanked LRCS and SLB for the taps.
He said that Covid-19 has affected their businesses and they are pleading for subsidy. The Deputy Minister of Water, Hon. Lepota Sekola congratulated Mokhotlong residents and thanked SLB and LRCS for tippy taps.
He advised the nation to stay safe, wash hands regularly and adhere to Covid 19 regulations as one of the preventative recommendations is to regularly wash
hands with soap and running water. Sekola further urged the residents to take good care of the taps. LRCS is a humanitarian non-profit making organization rendering humanitarian
assistance to the most vulnerable communities in the country while SBL provides full spectrum of financial services in the country and is part of the Standard Bank Group.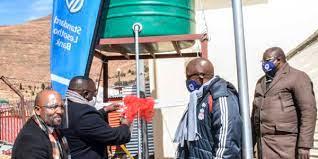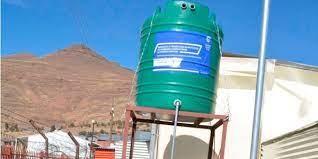 For More News And Analysis About Lesotho Follow Africa-Press