Africa-Press – Lesotho. The Rotary Club of Maloti today handed over PPE to the National Health Training College (NHTC) as part of efforts to assist in checking the spread of Covid-19.
Speaking at the event Mrs Yande Sikazwe-Mothae said when Covid-19 hit the whole world, they realised that the traditional notion of heroes and heroines changed to include men and women who stood in the forefront of fighting the monster, often sacrificing their own lives in some cases.
She said Rotarians strive to fight diseases, provide clean water, sanitation and hygiene and support education, among other noble initiatives. "With the donation, we are not only taking care of the education of the students at NHTC but also the future health of Basotho.
Taking care of the health of future workers is an investment that will surely pay off in future when the country benefits from the hard work of our future health workers.
"Allow me to take this opportunity to thank the Chinese Embassy, through His Excellency Lei Khezong, that donated these PPEs to us so that we can donate them to others in of our service," she said.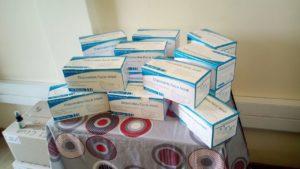 For More News And Analysis About Lesotho Follow Africa-Press