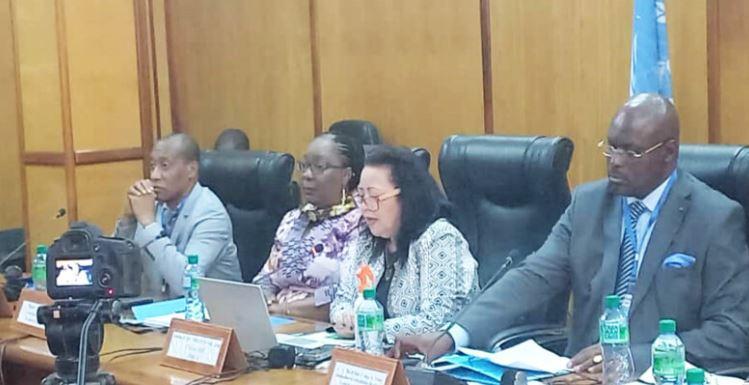 Africa-Press – Senegal. The United Nations Resident Coordinator in Senegal, Aminata Maïga, stressed on Wednesday the importance of making air transport and the African Continental Free Trade Area (ZLECAf) "a powerful instrument" to "boost" economic growth and "strengthen" regional integration.
"Air transport and the ZLECAF are of great importance for African regional integration and the structural transformation of the continent's economies," said the United Nations Resident Coordinator in Senegal, Aminata Maïga.
She was speaking at a round table organized as a prelude to World Africa Day scheduled for Thursday, on the theme: "ZLECAF and the Single African Air Transport Market (MUTAA)". The day will coincide with the commemoration of 60 years of African Unity.
According to her, this free trade area can be "a powerful instrument for the promotion of intra-African trade, job creation, especially for women and young people".
It will also make it possible, Mrs. Maïga continued, to stimulate economic growth and strengthen regional integration.
Also, believes the representative of the Secretary General of the United Nations in Senegal, air transport plays "a crucial role" in the achievement of the AU's Agenda 2063.
For his part, the representative of the Minister of Economy, Planning and Cooperation, Colonel Moustapha Ngom, indicates that Senegal "will begin exchanges within the framework of the ZLECAF in the coming weeks".
He maintained that these exchanges can constitute a "real opportunity" for the African continent.
Mr. Ngom also recalled, in this regard, the efforts made by Senegal "to modernize its air transport sector with, in particular, the construction of an international class airport and the construction inside the country of new airports and aerodromes".
For the Ambassador of Gabon to Senegal, Michel Régis Onanga Mamadou Ndiaye, the objective of this round table is "to take stock of all these dynamic processes and to collect the opinions of competent experts and diplomats'.
According to the dean of the ambassadors in Senegal, the most important thing is that the countries concerned can "stay on the same path in terms of information, reflections, skills as those who are in the other capitals".
Régis Onanga Mamadou Ndiaye believes that these themes are "closely linked" and are "fundamental for the future of the African continent".
Pour plus d'informations et d'analyses sur la Senegal, suivez Africa-Press