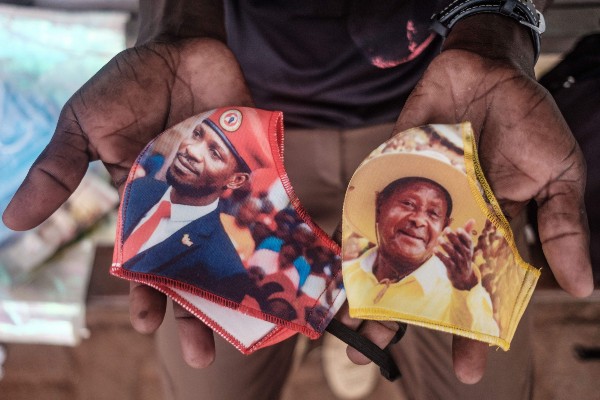 Report by
Faridah N. Kulumba
Africa-Press – Uganda. Its now less than 5,days to the Ugandan general elections 2020/2021, set to take place on 14 January 2021, to elect the president and members of parliament, Political pressure has mounted among the candidates from various political parties.
11 candidates are vying for the presidency 2021, but high competition is between the National Resistance Movement candidate also the incumbent Yoweri Kaguta Museven of 75 years who has been in power since 1986 and now running for 6th term and Ragea music star Robert Kyagulanyi 38 years also known as Bobi Wine a member of parliament from National Unity Platform party.
Other presidential candida are Patric Oboi Amuriat from Forum For Democratic Change, Norbert Mao from Democratic Party, Former Army commander Mugisha Muntu, Former Security Minister Henry Tumukunde, John Katumba, Former sports journalist Joseph Kabuleeta, Fred Mwesigye, Willy Mayambala and the only female candidate Nancy Linda Kalembe.
Although president Museven is been ruling Uganda for more than 30 years, and in he says that he has done a lot for Ugandans and in his current manifesto he urged Ugandans to vote for him so that he can secure their future
But the youth who takes up 80℅ of Ugandan voters majority support Bobi Wine saying that they need change and that they tired of being told that they are the leaders of tomorrow yet they are already in the future.
During this struggle of who will be the Ugandan next president, more than 50 youth have lost their lives in riots which broke out after Presidential candidate Robert Kyagulanyi was arrested during one of his campaigns in Eastern Uganda.
2020/2021 campaigns in Uganda where declared scientific by the electoral commission chairman Justice Simon Byabakama due to covid 19 pandemic, where by candidates were burnt to conduct political rallies of more than 200 supporters. And in some districts campaigns were burned completely. And the candidates where urged to use social media, televisions and radios to campaign.
This did not go well with the opposition candidates who says that the government is using electoral commission to restrict them from reaching their supporters.
Assuman Basaalirwa opposition member of parliament while on an interview on a certain television programme said " among the countries who have organised general elections, Uganda is the only country who put unfair measures to cub covid 19.
But members of the ruling party have vowed to do whatever it takes to use the scientific election to campaign for their candidate Yoweri Museveni back into power.
Jacob Ayeru member of NRM Youth National task force in an interview with Africa press revealed that they have launched a new strategy named door to door campaign they are going to use national wide to reach to every Ugandan in the few days left to support their candidate.