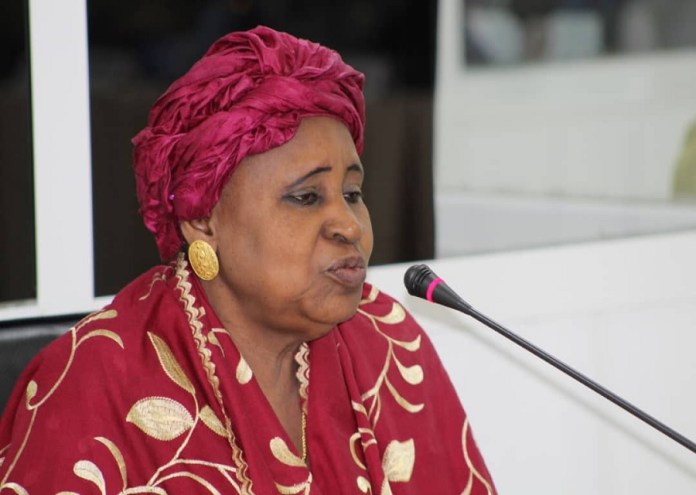 Former vice president Isatou Njie-Saidy has denied knowledge of the litany of all the capital crimes and abuses the government – which she had served as vice president – has been accused of.
In a testy appearance at the TRRC hearings yesterday afternoon, she said the horror stories and tales of woe being told at the commission are "traumatising" and that she cannot shirk responsibility as she was part of the government.
She said everybody was a victim, one way or the other and apologised to the victims and the families of the victims, especially those of the deadly April 10/11 2000 student riots when she was serving as acting head of state.
Mrs Njie-Saidy said: "The killing of any child is unforgiveable. Therefore, to those who lost their children, I apologise on behalf of the government and the nation."
In a sometimes combative exchange with TRRC lead counsel Essa Faal, the former vice president said the buck always stopped with President Jammeh on security-related matters.
"Jammeh is a strong man, who, if he delegates, still takes control. You cannot make decisions until you referred to him," she said while explaining that she was not aware of the student demonstration until after her meeting with the National Security Council which she headed on that fateful day.
She said she called Jammeh in Cuba on the phone informing him about the troubles and the destruction of the Bundung and Serekunda police stations among other areas. She said he requested her to hand over the phone to the service chiefs but was not privy to what he told them.
She said she concurred with the security
council decision to deploy the general police, and that in the event the situation could not be stabilised, for the army to take over from the para-military police.
But she vehemently denied asking anyone to kill anybody in the entire period she worked with Jammeh.
She said she later found out that the statement she was asked to read on the national television was false.
She also agreed that the law subsequently passed to indemnify those responsible for the killings of the students and other acts perpetrated by the government and its agents was not right.