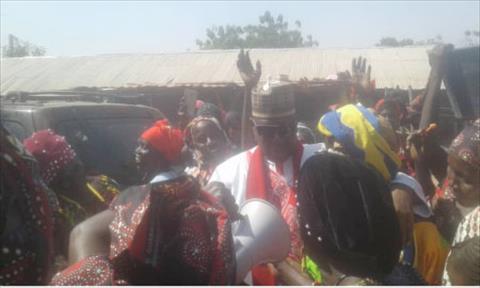 Mai Ahmad Fatty, the leader of Gambia Moral Congress (GMC) has unveiled his areas of intervention if elected into office in 2021. He disclosed that GMC will transform The Gambia into a modern country by instituting a standardised government that will minimise mismanagement of public funds and use it wisely to reform agriculture in The Gambia.
He added that the party will also improve the living standards of the people and focus more on education, health, infrastructure, job opportunities for youths, electricity, water and other important sectors in the country.
Thousands of GMC supporters in Wuli received Mr. Fatty over the weekend to launch the party's third national congress.
Many important dignitaries across the country including The Gambia Democratic Party leader Mama Kandeh graced the occasion.
The reasons for the congress was to come out and meet the Gambian people  and discuss the party's progress and also, it is mandatory for a political party to hold a national congress every year. It was also important that the congress is the forum where the leader of the GMC Mai Ahmad Fatty highlighted his targeted areas to reform The Gambia if he is elected into power in 2021.
Addressing the occasion, Mr. Fatty called on his party supporters to unite and work towards the success of the party, to maintain peace and abide by the law. He also told his people to stand firm and let no one separate them and to be people who help in developing the country because a country cannot be developed by one person.
He further called on his people to obey the rules and be part of people who maintain peace and stability in the country as it is part of The Gambia Moral Congress' mission statement. He further advised them not to engage in politics of insulting people especially elders and bringing tribalism and misunderstanding within the people of one nation and the same culture and traditions.
He also thanked the people especially the organisers of the congress and Mama Kandeh for making the occasion a success.
The GMC's Ward Councilor Sutukonding Alhagi E. Kijera, GMC chairman in Wuli East Mahadi Krista, National women mobiliser, Tida Kijera, Alhamdu Konteh, a former candidate of the GMC in Wuli East both spoke at length cataloguing the improvements in the party and assured the leader that they would continue to stand firm for the party so that Mr. Fatty would become the president of the country in 2021 for real transformation.