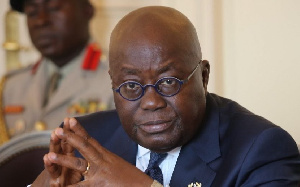 President of Ghana, Nana Addo Dankwa Akufo-Addo
Discount on your flight to the US or EuropeBook via this link and receive US$ 50 discount!
The road contractor Owusu Acheaw who accused President Akufo Addo and the Minister of Roads and Highways Kwasi Amoako Attah of killing 22 road contractors is begging for forgiveness over his reckless comment.
The contractor launched a scathing attack on the President calling him a rascal and a serial liar.
He accused President Akufo-Addo and his relative the Roads and Highways Minister of killing the contractors out of frustration by refusing to pay them for work done.
"Government has refused to pay contractors for several years after they've completed their road projects. Lots of contractors have died out of frustration…they've killed them. I'm telling Otumfuo to drive the President out of Kumasi before he kills the residents.
"…We really have to think deeply before we hand over power to a certain caliber of people. We've given power to some people who have greatly disappointed us, people sacrificed their lives during the Kume Preko march. President Akufo-Addo should not come to power to make Ghanaians suffer. Why should I go to the Minister of President and beg for money that is supposed to be paid to me? The President must remember that he and his brother have killed 22 contractors. The IGP knows about this and he's quiet, all he knows is to order for the spraying of hot water on demonstrating law students," Mr Owusu Acheaw said on Kumasi-based Otec FM.
This outburst by the contractor has resulted in the Minister for Roads and Highways, Kwesi Amoako Atta threatening to cancel contracts of road contractors who insult and disrespect President Nana Addo Dankwa Akufo-Addo.
"I don't care if he insults just me but if he involves the president in issues involving my sector, I will not allow it. Any road contractor who will peddle falsehood and insult the president and it is proven; I will take steps to terminate that contract immediately," he said while addressing a gathering at Akwatia during the President's tour of the Eastern Region.
Mr. Owusu Acheaw after realizing that he went overboard with his utterances has appealed to the Minister not to hold anything against him.
"…So please beg Hon. Amoako Atta for me and tell him that I remain his brother and that I'll come to him. Even if he does not welcome me I'll still visit him. I beg him he should give me some of the big contracts because I'm capable of executing such projects," he said on Neat FM.