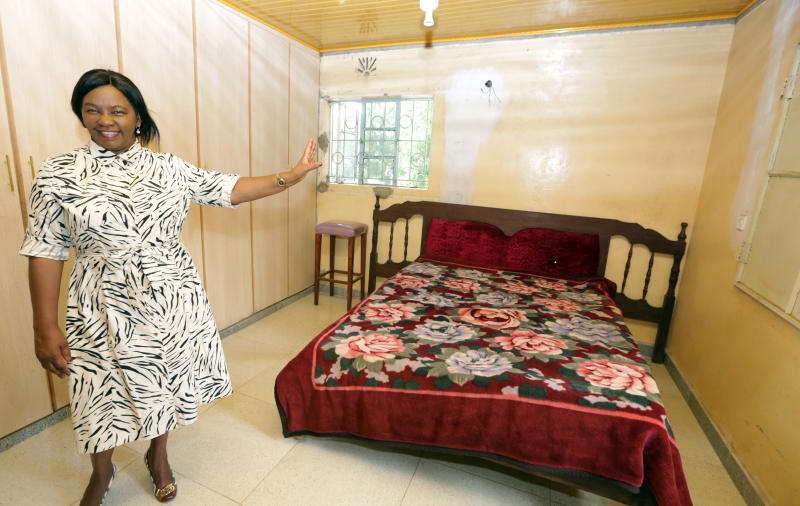 One evening in June 1998, former President Daniel arap Moi with his entire band of uniformed and plain clothes security officers and State House officials went to the then Kitui District on a meet the people tour.
Unknown to many, Mzee Moi had decided to spend the night in Kitui and his handlers were making last ditch efforts to convert a humble homestead in the sleepy Kyondoni village into a State Lodge.The home belonged to the Minister for Environment Francis Nyenze who had won the Kitui West parliamentary seat on a Kanu ticket in 1997 elections.Nyenze's wife, Edith, who is the area MP remembers the visit by the former Head of State which took Kitui residents by surprise.
Mrs Nyenze recalls getting a call earlier in the day from her husband informing her that the president would be touring Kitui and would be their overnight guest. She was required to make adequate preparations."I laughed it off thinking it was a joke. I wondered how the president would sleep at our village home.
I assumed if he was to sleep in Kitui, he would spend the night at the District Commissioner's house," Mrs Nyenze says.But what she thought was a joke turned out to be a serious affair when her husband called again to confirm that indeed the president would be their guest.
"When I realised he was serious, I quickly mobilised people to clean the home and re-arrange things in the house," Mrs Nyenze, who was then the principal at Kyondoni Girls Secondary School said yesterday.  The people who arrived first were security men and State House officials, including cooks who immediately took charge of her home, making requisite adjustments in the four-bedroomed house for the president's comfort.
Where dined
While taking us on a tour of the house from the sitting room where Moi met his ministers from Ukambani to the dining room to where he spent the night and to the bathroom, Mrs Nyenze's face lit up, remembering every detail as if it happened yesterday."This is actually where he had his dinner. And this is the bedroom where he slept," she said, adding: "I think I should make the house a museum of sorts, complete with Moi's portraits and those of my late husband.
"The following morning, Moi, an early riser had his breakfast at the living room, together with the ministers who included Kalonzo Musyoka, Gideon Ndambuki, Joseph Kamotho and Kilome MP Tony Ndilinge among others. After the breakfast, Moi planted a tree in the homestead in line with his call to conserve the environment."He struck us as a humble and accommodative leader.
I had never been that close to the president. We were honoured to host him," she noted, breaking into laughter as she recalled how after Moi's departure, a whole village descended on her homestead, some too curious to see where the president slept while others just wanted to sit where he sat.From Nyenze's home, Moi visited the nearby Kyondoni Girls Secondary School where he donated Sh1 million. The money was used to construct an administration block and classrooms. He later invited AIC Kyondoni choir to his Kabarak home after enjoying their ballads.
Songs he loved
Mrs Nancy Musyoki, who was the choir conductor recalled their visit to Kabarak with nostalgia. She said that as her 40-member troupe belted song after another, she would tactfully grab the Head of State by the hand who would happily join in dancing and singing. "We were pleased to entertain him. He was very warm," said the 68-year-old. Nyenze was a guitarist in the choir.
While in Kitui, the president's convoy snaked its way to Mutonguni market where Moi endorsed the candidature of Ivia Mbuvu who was running as a councillor for Kakeani Ward on a Kanu ticket in a by-election. The visit by Moi, Mrs Nyenze said, brought good tidings for the community.