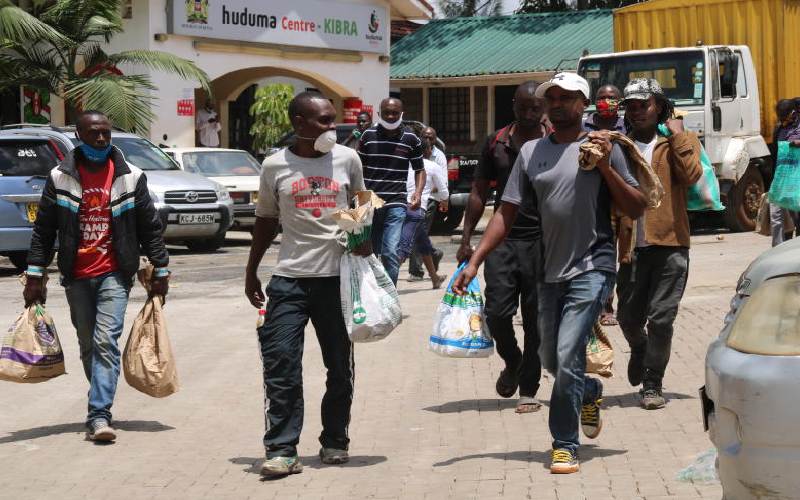 AfricaPress-Kenya: The government has banned the uncoordinated direct distribution of food and non-food donations within communities across the country after the Kibra food distribution chaos that left two people dead.
In a statement sent to media houses on Saturday, Interior Cabinet Secretary Fred Matiang'i directed any donors and well-wishers who would like to contribute to the coronavirus response actions to channel or coordinate their contributions through the Kenya Covid-19 Emergency Response Fund.
He said the measures will secure the coordination, consolidation, demarcation and distribution of donations in a dignified manner to the vulnerable members of our society across the country, based on the already developed needs map, whilst ensuring that the same is rolled out in a transparent and accountable manner."These additional measures will make the donation and distribution more secure to and enhance accountability in the process," said Matiang'i.
Matiang'i directed National Government Administration Officers to work with the National Police Service to secure strict enforcement of the directive, and further communicate the Fund details and information to all key stakeholders and local community actors in coordinating this national endeavour.He thanked all civic-minded individuals, groups and corporates who have come to the aid of vulnerable groups and communities during these difficult times
The move comes a day after two people were killed and scores injured in Kibra during the distribution exercise of foodstuff donated by ODM leader Raila.
The deceased reportedly died on their way to the hospital after sustaining injuries in a stampede as people scrambled for foodstuff and other items.Raila, his wife Ida Odinga among other sponsors donated a consignment including included food, sanitisers, soap, oil and water, through the national government.
The Sh15 million worth supplies were meant to help residents of Kibra during the coronavirus pandemic crisis and were handed over to the office of the Deputy County Commissioner.
The former Prime Minister said the donation was to cushion vulnerable families against hunger following tough directives put in place by the government to combat coronavirus.