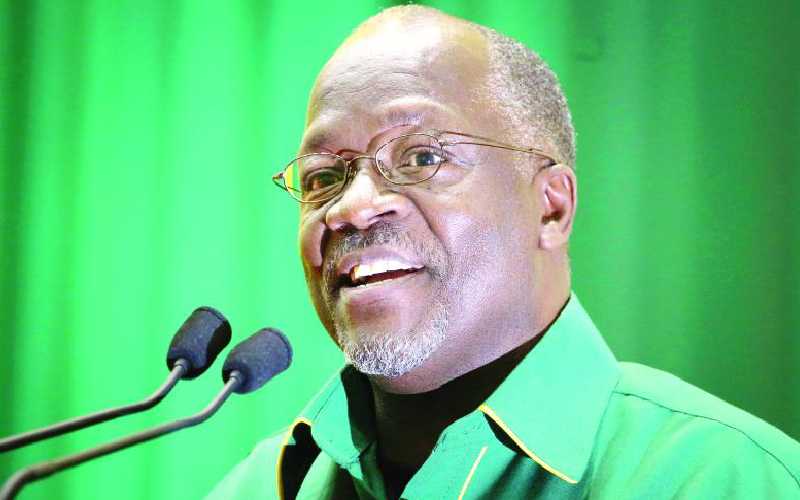 Tanzanian President John Pombe Magufuli (pictured) has described former President Daniel arap Moi as a true pan-Africanist, who led the way in defending the interests of the region on the global stage.
Former Tanzanian president Benjamin Mkapa, who alongside President Moi worked to spearhead the revival of the East African Community, read Magufuli's message.Magufuli praised Moi as a statesman who loved his country and wanted the best for its citizens. "Moi will be remembered for his diligent service to the country and also for the revival of the East African community (EAC)," said President Magufuli.
He added: "He defended the continent's interests on the global stage… In East Africa, he led the way in the revival of the east African community," said the Tanzanian president.After the collapse of the EAC in 1977, Moi joined hands with former Tanzanian president Ali Hassan Mwinyi and their Ugandan counterpart Yoweri Museveni in efforts to revive the regional bloc.The bloc would later expand to include Rwanda, Burundi and South Sudan to become one of the largest economic blocs on the continent.
In his own speech, Mkapa said Moi was his mentor in leadership, as they interacted during various events and meetings in the region."I served as president for 10 years. In those 10 years I worked with Moi.
He was my mentor in leadership," said Mr Mkapa.Former president Jakaya Kikwete, who was part of the Tanzania's delegation to the State funeral service yesterday, recalled his visits to Kenya as a government minister, where he interacted with the former president.He recalled a time he visited the country and Moi escorted him to his car, an incident he said signaled a rise in his future political fortunes."I knew Moi from my school days, as I studied Kenya's independence… he was a dedicated leader who led us in the region," said Kikwete.