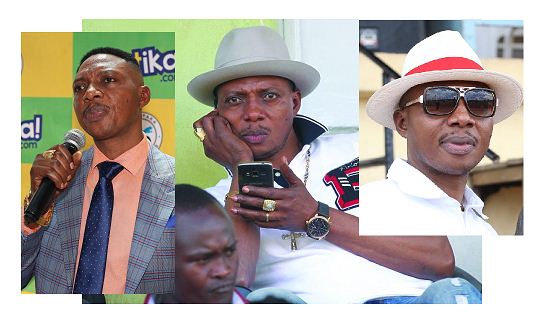 AfricaPress-Kenya: He is credited for transforming Kenyan football by introducing professional contracts and selling of players, plans to build a multi-billion sports complex.
There is no doubt Sofapaka owner and 'president' Elly Kalekwa revolutionised and changed the face of Kenyan football.
When the flamboyant Congolese businessman entered the Kenyan Premier League (KPL) with Sofapaka (Sote kama Familia kwa Pamoja Kuafikia Azimio) in 2009, barely six years after the club's formation, the top tier was in a different state.
For Kalekwa, business and football are evidently intertwined with his seismic influence on the Kenyan game which is also well documented.
From introducing the buying of players for so much more than what their market value is/was, paying them hefty salaries, proper contracts and selling them to hiring some of the best coaches in East Africa and making Batoto Ba Mungu become the first club to own an office and purchase a bus in the current generation, Kalekwa has transformed the local game.
Though Kalekwa has reportedly spent over one billion shillings since the club was formed in 2003, he is already planning for another multi-billion investment project that includes a modern academy, hotel and stadium in the next eight years.
Sofapaka took KPL by storm with Kalekwa's impressive signings across the continent setting a precedent for his era as the club lifted the league title on their debut in 2009.
Since then Batoto Ba Mungu has become a force to reckon with not only in Kenya, but also in Africa if their performance in the continental competitions is anything to go by.
While Sofapaka have lifted the FA Cup thrice (2007, 2010 and 2014), many of their signings led by legendary Kenyan striker John Baraza, former Kenyan internationals James Situma, Titus Mulama, Burundian striker Abdul Fiston Razak, Zimbabwean striker Obadiah Tarumbwa, Ugandan Umaru Kasumba, Congolese duo Patrick Kagogo and Bob Mugalia all flourished and illuminated in KPL.
But Kalekwa's choice of coaches also made the difference with experienced Robert Matano, Francis Kimanzi, Briton Stewart Hall, Ugandan duo of Sam Ssimbwa and Sam Timbe all managing the club.
And save for the 2016 season which Sofapaka survived relegation after finishing 14th on the log (26 points) when Blue Triangle withdrew the Sh33 million per year shirt sponsorship and tenth (31 points) in the abandoned 2019/2020 season, they have been consistently among the top five in the league.
Dressed in a checked-grey suit and Texas cowboy hat with a red tie on Tuesday evening at Eastleigh High School Grounds, Kalekwa passionately explained why he's pumping a fortune into Sofapaka and what he's hoping for in return.
"I can't really tell the exact amount of money I have spent on the team, but what I know is it runs into billions of shillings.
"And if you have a good product you can recoup that money. But you must be passionate about football for you to heavily invest into it," Kalekwa told Standard Sports.
"Just like you have found me today talking to the players after coming from work explains how much I love this team. I used to even train with them before I suffered a life threatening injury. Club chairman is not just a title; we are the servants of these players."
Football is business
He continued: "Football is a business but it is also something that brings people together and that's why I'm not in a rush to make money; money comes later. Money is not everything, but sponsors are the most important thing because without them you can't do anything.
"Football business is like farming; you can't harvest where you have not planted. That means, first you must have a brand and make it strong before starting to sell players like what we did with Fiston. We bought Fiston for Sh4 million but sold him for Sh20 million to South Africa after six months. That means we did a good business just after six months.
"Once we realise that football is a business, then it will drive you to make money. And this can only work well with business-oriented players who know their valuation well. Just look at how Mariga (McDonald, Wanyama (Victor), Olunga (Michael) and other foreign-based players have made a living out of it."
Appearing to like what he sees and talking confidently about his plans that includes Sofapaka's recent partnership with an England-based international players' transfer company and the multi-billion sports complex, Kalekwa said he is looking forward to taking the transfer business to the next level.
Having been the first KPL club to reap Sh20 million from a single player sale when they sold Fiston Razak to South African giants Mamelodi Sundowns in 2015 barely five months after joining the club, Kalekwa is in real business.
"You can make mistakes when signing players as per the coach's demands but sometimes you can make one good signing and you recoup from his transfer fees. At the moment, we have signed a partnership deal with an international transfer company that will be dealing with all our transfer businesses," he said.
"Right now, I can't sign a player without their consent. It's based in England and we are their (Sofapaka) representatives in East and Central Africa. There is no player they can bring on board from this region without our knowledge. Sofapaka is now more of a business entity than a football club and that's why I have partnered with this company which handles more than 32 per cent of Manchester United players."
He added: "Our plan in the next eight years is to have a modern football academy, hospital, hotel and a stadium that will cost us billions of shillings. I'm currently looking for a piece of land and once I get it we will roll out the program. I'm targeting a 200 hectares of land because my project is not small; you think big, you get big.
"The good thing is that this academy will accommodate players across the East and Central Africa region. It is through such facilities that we will be able to attract teams like Arsenal and Manchester United for their preseason."
He was quick to defend his decision to lure KCB defender Michael Kibwage and Gor Mahia midfielder Lawrence Juma to his club after offering them lucrative deals.
"Of course I bought Kibwage and Juma knowing very well I'm going to recover my money and even make profits from their sales. Ask me their valuation after six months and I will tell you. For instance, Juma has a two-year deal and by the time I sell him and Kibwage their value would have increased," said Kalekwa.
Sofapaka model
Asked on how he feels for being considered as the 'father' of professionalism in the Kenyan football, Kalekwa said: "I don't deny that it is through Sofapaka's model of operations that some of the local clubs have been able sell players abroad, but that doesn't mean we should own the idea.
"It is not a must we do things the normal way, we need to improve and professionalise everything for our game to grow. We need to take a leaf from the European clubs and ask ourselves, how do they make billions from football?
But Kalekwa says his nadir moment in football occurred in 2017 when they were relegated from the league for failing to the club licensing regulations before they were reinstated by the Sports Disputes Tribunal.
"Seeing Sofapaka being relegated from the league over club licensing issues was one of my lowest moments in football. The other one is when you expensively sign a player and he fails to deliver on the pitch and loses points after spending a lot of money on preparation. If you lose and the team has played well, I don't complain and most of the time I give them allowances," he said.
Though he doesn't have any major regret, Kalekwa is saddened by how his former player Bob Mugalia wasted his career.
"I don't have any regret because I love football. You must love any business you do. We have had a number of short-sighted players and I have learnt a lot from them, that's why I'm only working with those players who share with my school of thoughts business-wise," said Kalekwa.
"For instance, I'm pretty sure Bob Mugalia is regretting wherever he is. I had good plans for him, but he literally wasted himself. He didn't use his time well. "
And while he quashed reports that his club had dumped their immediate former coach John Baraza after many years of service, Kalekwa took a swipe at national team Harambee Stars for failing to qualify for the ongoing 2021 Chan in Cameroon.
"We have not dumped Baraza, people just threw his exit out of proportion. How many trophies did he win for us as a player? We relieved him off his coaching duties because we have good plans for him. He is an asset to us and that's why we are going to facilitate his further coaching training programme either in German, Netherlands or Norway," he explained.
"It is very wrong for Harambee Stars not to be in Cameroon for Chan right now because this is a big country with many talented players.
"How can teams like Rwanda, Tanzania and Uganda with smaller budgets than Kenya qualify for Chan yet we can't? That means the clubs must be respected for them to perform well and produce quality players for the national team."
On the match fixing menace that is threatening the integrity of the Kenyan football, Kalekwa said: "There is nothing bad in football like match fixing. But I have never heard about someone who has been successful in life through match fixing. A football lover cannot be involved in that vice and once you start practicing it, you will lose everything.
"There is no room for anyone involved in match fixing at Sofapaka. Once we suspect you are part of the scheme or even your intentions, your contract will be terminated immediately.
"That's exactly what we did with the Asian company (Living 3D Holdings Limited) who had come on board as our sponsors."