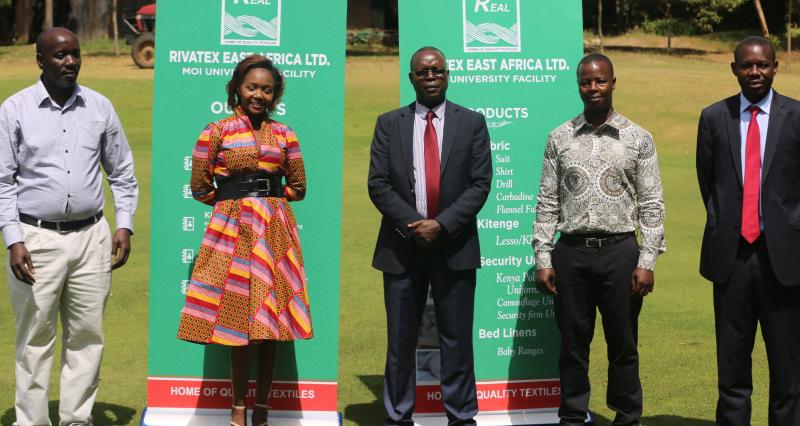 AfricaPress-Kenya: Textile manufacturer Rivatex East Africa has announced plans to revive a football club it sponsored in the 1980s. Rivatex FC was among top-tier football clubs including Kenya Cooperative Creameries (KCC) and Posta that played in the national league before collapsing with the company in the early 1990s.
The clubs often brought Eldoret town to a standstill, jamming 64 Stadium with football fans during derbies in their prime.
Rivatex Managing Director Thomas Kipkurgat yesterday said plans are underway to revive the club after the textile company resumed operations.
Kipkurgat said the Moi University-owned firm will be scouting for football teams in the North Rift region.
"We have agreed as a company to take a move that can bring the people of this county together through sports. We have decided to come up with a solution of reviving our football team," the managing director said.
He said the company will have a men and women football team in the move aimed at growing talent in a region where athletics and volleyball are dominant.
In its plan, the company said, it is looking into ways of bringing players and coaches on board as the process to revive the football club begins.
Kipkurgat said the company will work closely with the government and corporate to raise funds to sustain the club.
"I can remember when Rivatex FC and KCC FC were participating in the Kenya Football League, football was a more popular sport in the region and the country. We must help the country by growing talent," he said.
He added: "Our main focus is to use sports to foster peace and cohesion.
He added: "If everything goes according to plan, we expect to have our football team before the end of next year… Our main focus is to ensure that we unite people through football."
Kipkurgat was speaking at Eldoret Club during the unveiling of Lelesta Fashion for Heroes Golf challenge tournament where he said the company was working with Small and Medium Enterprises to promote golf.
Lelesta Fashion House CEO Naftali Korir said the tournament which will be held at Eldoret club tomorrow (Saturday) has attracted over 80 amateur golfers.