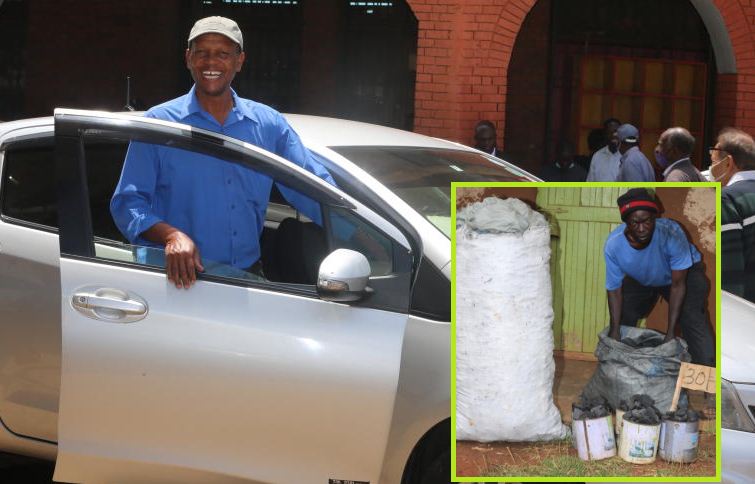 AfricaPress-Kenya: Some were forced into taxi and charcoal business and others farming with little success
It has been tough for former players after Eldoret KCC and Rivatex clubs collapsed
A number of these players have, however, resorted to nurturing young talent.
After watching the companies that sponsored their football clubs and shaped their careers collapse, former players and coaches fell into turbulent times.
The downfall of the Government-owned firms, and which have since resumed operations forced football players into unexpected retirement.
From hawking charcoal and building materials, to operating as taxi drivers and farming, football stars who played for Eldoret's giant clubs – Eldoret KCC and Rivatex FC as well as the national team Harambee Stars are struggling to make ends meet.
They exited the football stage as glorious heroes, but years later they no longer attract a glance from the throngs of fans who filled the stadiums whenever they played.
Some former players are however successful coaches, nurturing young talent while others were recalled to the revived firms, not as footballers, but as workers. But others are surviving on small scale farming.
It is a sweltering hot afternoon in Eldoret town, but a tall Peter Kihamba quietly takes cover on the corridors of a building.
A few metres away, a fleet of taxi cars are parked along the busy Uganda Highway, opposite a Total Petrol station.
Kihamba has been a taxi driver since 2012.
Unknown to many people, his clients included, is that Kihamba was one of the best football players in the country in the 1980s and 1990s, and rose through the ranks to become a coach at the Eldoret KCC FC.
The collapse of the Kenya Cooperative Creameries (KCC) which sponsored his club in 1999 plunged Kihamba into a life of struggle.
For four years after being rendered jobless at Eldoret KCC where he was a coach, he says, life was difficult but he continued training teams in Eldoret and Western, but in short stints.
He says he officially quit football coaching in 2005 before taking up a menial job at a children's rescue centre.
"For two years, in 2005 and 2006, after I had quit football, I worked at Eldoret Children's Rescue Centre," Kihamba says.
He adds: "I had to think of ways of making ends meet. Everything collapsed in 2012 and I took up taxi operations although I occasionally trained some inter-estate teams."
After an impressive football career, it was an uphill task for Tom Tera who was popularly known as "Terror" because of his stellar plays.
After the collapse of Rivatex in the year 2000 forced him into retirement, Tera started a new life by coaching community football teams without pay to give back to the community.
He coached the Maseno University football team from 2004 to 2014, and some of his football products are abroad and support him.
Tera would later join Vihiga United which was promoted to the Kenyan Premier League in 2018 as an assistant coach.
In the sprawling Langas residential area in Eldoret,  lives Patrick Namai who played for the two Eldoret football clubs and the national team.
For over six years, charcoal hawking has been Namai's job.
It's been more than three decades since the former Harambee Stars defender exited the football scene, and with it, faded the memories of his footballing days.
A daily fight for survival has become his companion, even as he struggles to provide for his family.
Namai is frequently spotted making rounds, transporting charcoal from sellers and at times to customers in Langas.
Most of his customers are however unaware that the man selling charcoal to them was once a football star who made them glued to the then only broadcaster – Kenya Broadcasting Corporation.
"I think I was just not lucky in my football career. Life was good when I was playing for Eldoret KCC and Rivatex as well as the national team, but things turned for the worse. Today, I sell charcoal to feed my family and pay bills because I have to struggle not to be a beggar," he says.
In Racecourse, along the Eldoret-Kapsabet Road, former Rivatex FC and national team player Philip Arap Tum is beginning to enjoy the fruits of his building materials business.
Tum who comes from Kapsabet is picking up the pieces after years of languishing in poverty.
He had joined Kenya Pipeline football team where he played until 2002 after Rivatex collapsed in 2000.
Calls to the national team stopped and he had no option but to return to Eldoret where he had bought a piece of land at his prime.
With no money and his career tumbling, Tum who had not developed the piece of land in Eldoret could not return to Kapsabet. He was broke and could not face his friends and family in the village.
"I lived in a shop near my plot for about two years until 2004 when I joined one of my relatives in hawking clothes in open air markets in Nandi and Uasin Gishu counties. The relative gave me ten pieces of blankets to start my hawking business. I sold the ten pieces and the money became my starting capital," Tum said.
He says he stopped the business in 2008 following post-election violence that rocked the country, hindering transport.
He started the sale of building blocks and sand in 2008 and struggled to grow it.
He says they were promised rewards by the Government and corporates after many football assignments while playing for the national team but they were never fulfilled.
Not far from Tum's home, Ken Ambundo who played for Eldoret KCC and Harambee Stars is struggling to nurture young football talent in Kapseret and also farming.
For seven years from 2000-2007, Ambundo was jobless.
Luckily, he secured a job with an NGO – Hope World Wide Kenya between 2007 and 2014 when he became jobless again after his contract ended.
After losing the job, Ambundo says, he registered Jiamini soccer to nurture football among school boys.
"It was difficult starting Jiamini because I didn't have any money. I walked many kilometres to town looking for a pitch to train young talent and back to the house because I didn't want to ask money from my wife," Ambundo says.
He says after several months of securing a pitch for training at Hill School and Potters House Academy he got help from 3,000m world indoor and outdoor record holder Daniel Komen.
"One day I was standing in a parking lot at Hill School and I saw Daniel Komen who is the director at Potters House. I walked to him and made my request. The gentleman told me to meet him in his office and the following day he allowed me to use his school's play grounds to train the kids," says Ambundo.
"Unfortunately, two young players – my son Mike Abuko and the son of an athlete turned up for the training. I was targeting to receive over 100 school boys for the training. I am happy that I now have at least 20 upcoming footballers during the school holidays."
From the little money he gets from training young talent, Ambundo is today growing his dairy and poultry business one step at a time. He is raising 400 chicks and four dairy cows in his pilot agricultural venture.
In Eldoret town's Central Business District, 1997 player of the year Tom Rero is busy selling books in one of the outlets.
At Garg Enterprise Limited – a books and school laboratory dealer, Rero is the man charged with supplying items to customers in and outside Eldoret.
"I tried playing for many clubs including Pan Paper and Reiply after Eldoret KCC collapsed. I became Reiply coach between 2004 and 2011 before taking up the bookshop job in 2013," says Rero.
Hussein Okaka who played for Rivatex FC is lucky to have been called back as factory worker after the firm resumed operations four years ago.
Okaka nurtured his three boys Aziz Okaka, Jaffari Owiti Okaka and Faraji Ominde into fine footballers playing for City Stars, AFC Leopards and Tusker FC respectively.
Other footballers for example Patrick Nachok died after years of misery after Rivatex FC collapsed.
Before his demise in 2002, Nachok from Turkana, was struggling with life in Nairobi. He could not raise Sh800 for his house rent in Kibera, according to a football legend Sammy Sholei.
Former Rivatex players Alfayo Odongo, the best player in 1991 and Rodgers Amukasa also passed on later while struggling after glorious football careers in the pitch.