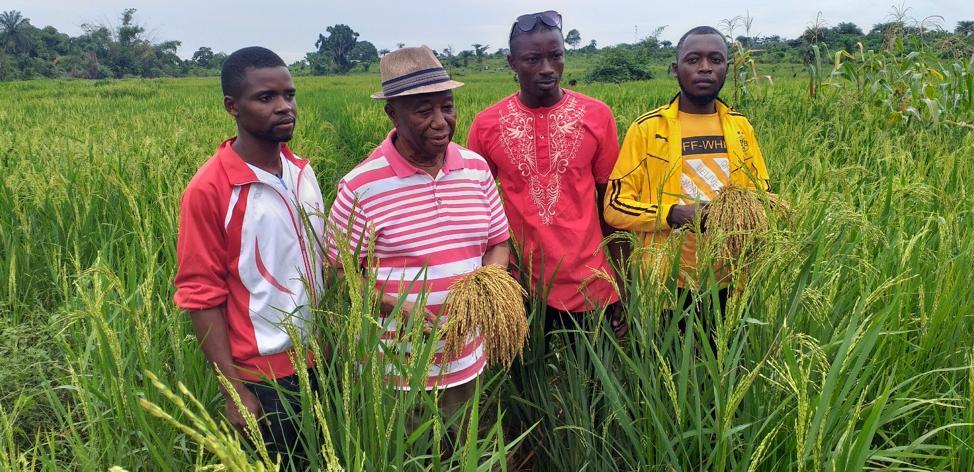 Africa-Press – Liberia. Boakai Massaquoi, the Chief Executive Officer of Boakai Massaquoi Agriculture and Real Estate Incorporated, has staunchly refuted claims that his farm belongs to former Vice President Joseph Nyumah Boakai.
These allegations surfaced when a social media group, named and styled the "Opposition Solidarity Brigades," recently posted a photo of ex-VP Boakai on Massaquoi's rice farm, accompanied by the caption "Amb. Joseph Boakai on his rice farm."During a press conference, Boakai Massaquoi addressed reporters, highlighting that this action had created tension among his family and supporters.
Massaquoi, who is also an Independent candidate in Montserrado District #2, responded in the wake of a Facebook publication featuring an image of himself and Ambassador Boakai.
He clarified that these pictures were taken back in 2019 when he invited Amb. Boakai and officials of the Ministry of Agriculture to the harvest launch of his 30-acres lowland rice farm in Caldwell. He explained that the images are now being used by UP surrogates to falsely claim that the farm belongs to Ambassador Boakai.In one of the images, the former Vice President is pictured alongside the Assistant Minister for Agriculture, Alvin Wesseh and the farm's owner, Massaquoi at the launch of the harvest which was held on July 20, 2019.
Farm's location
This farm is located in District 11, Montserrado County, covering several acres. During a tour with a team of journalists, Massaquoi presented legal evidence establishing that the rice farm unequivocally belongs to him and not to the Standard Bearer of the opposition Unity Party, as asserted by his supporters.
While the Unity Party's presidential candidate has prioritized agricultural investment if elected, citing his experience as a former Minister of Agriculture, Massaquoi, the Montserrado District #2 representative candidate, urged UP partisans to be truthful in presenting their candidate to the Liberian public instead of thriving on falsehoods and deception.
"Is this how they will find their way to state power by lying to the Liberian people? Such information posted on the Opposition Solidarity Brigade's Facebook page is criminal and a total deception to not only me and my families, but the general public," he said.
He cautioned members of the opposition Solidarity Brigade to immediately remove the post or face potential legal action, describing such misinformation as criminal and misleading to the public.
Massaquoi also called on Ambassador Boakai to instruct his supporters to correct the record and put an end to the controversy.
For More News And Analysis About Liberia Follow Africa-Press