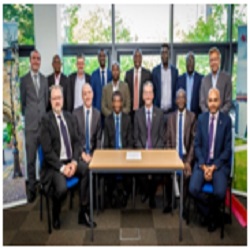 De Montfort University announced this week that it is working with Kwame Nkrumah University of Science and Technology in Ghana, the Finnish Education Group and The Gambia's government to support the creation of a new university of science, engineering and technology in Gambia.
The Gambia has a huge skills gap and the government wants a university that not only nurtures future researchers and experts in these fields, but encourages graduates to build new businesses that create job opportunities for all.
Badara Joof, higher education and technology minister, DMU interim vice-chancellor Prof Andy Collop and Kwame Nkrumah University vice-chancellor Prof Kwasi Obiri-Danso signed the partnership agreement in Leicester last week.
Joof said: "There are a lot of universities in the UK but we settled for DMU because we realised this is a university that has a connection between what you do in the classroom and entering the world of work.
"Employability at DMU is very high and we want people from that field to help us make a difference.
DMU, Kwame Nkrumah and Finnish Education Group have experiences that will enrich us.
"In a world driven by science and technology, The Gambia needs an institution like this and you will help us achieve this.
We can now make a solid start by teaching the scientists of the future in our country.
This is just the beginning.
We are in this for the long haul to create a great centre of excellence."
Vice Chancellor Obiri-Danso, who sees many Gambians leave their country to study sciences at his university, added: "I am excited to be in the UK today.
We all share a connection that we were brought up by the British as part of the Commonwealth and there is always an opportunity to improve things by going back to our roots.
"We want to create future scientists and engineers but we want scientists and engineers who are capable of creating jobs in their country.
That is what excites me."
DMU's involvement in the project started a couple of years ago when its Director of the Centre for Academic Innovation, Dr Momodou Sallah, heard about plans for a new university.
He organised a meeting with the Honourable Joof to outline how DMU could help.
Dr Sallah, who was born and raised in The Gambia, has formed close connections between DMU and his home country through the Global Hands project, which sends his students to work on schemes to make them work ready.
Dr Sallah said: "DMU is an international university and is committed to meeting the United Nations Sustainable Development Goals (SDG).
This partnership addresses SDG 16, which aims for peace, justice and strong institutions.
"We can give people in The Gambia an education that will help themselves.
That is the best contribution we can make.
DMU is looking to empower a nation through education.
Prof Mba said: "I am incredibly proud that DMU has signed this partnership to create a new university of science, engineering and technology in The Gambia.
Since 2017, more than 3,000 youths have been sent back to The Gambia, after attempting to reach Europe through the dangerous 'backway' through Libya, because they have lost hope in a future in their homeland.