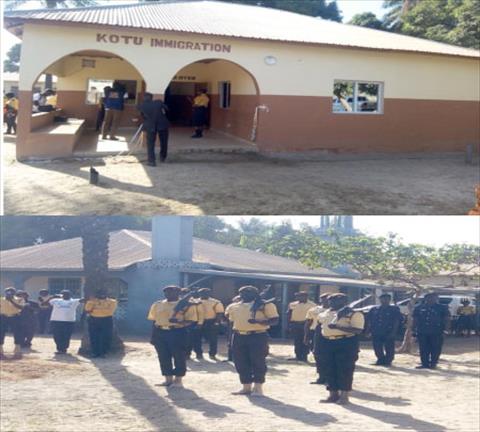 Gambia Immigration Department (GID) have recently inaugurated two posts in Kotu and Bundung, in the Kanifing municipality. The structures are part of the ongoing security sector reform in The Gambia.
Director General Seedy M. Touray, said the inaugurations are historic and a very important milestone for them to meet the increasing demand of expanding services and the need to establish immigration post across the country.
"These structures would provide the enabling environment and further assist in the improvement of service delivery in the country," he said.
Touray lamented that infrastructural development is one key component of security sector reform, and one aspect of it is security reform, infrastructural development and it has also to do with the equipping of those infrastructural projects.
"Gambia Immigration Department has a track record of effective service delivery which has positioned The Gambia as a leading example in the execution of laws in accordance with international best practices," he revealed.
He further noted that it is obliged to construct comfortable offices across the length and breadth of The Gambia, saying they have already come up with a strategic plan to build stations in Kotu, Bundung, Umarto and Dimbaya.
"We are all cognizant of the fact that the government could not do it alone hence there is a need to continue soliciting assistance from stakeholders and donors and already we are having an array of donors that have contributed immensely to the construction of these buildings," he said.
He said the efforts and resources put in to provide the structures would not go in vain as it will be well utilized and maintained not only for its purpose but to serve as a symbol of friendship and collaboration between GID and its partners. He also acknowledged the support from their sister institution, including The Gambia Police Force.
Farimang Manneh, CEO of Sand Beach Hotel and Pap Jabel Faal, president of the Bundung Car Park Drivers Association who also doubles as a donor to the project lamented that having an immigration post is a necessity and as a citizen, the little they could do is to lend a helping hand to public institutions in other for them to be effective, since their job would be of best interest of the public.
The duo further encouraged all other Gambians to render support especially when it comes to nation building because the government might not be able to do it all.