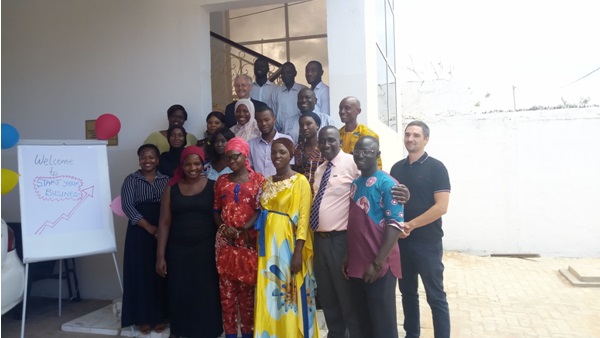 s
National Association of Cooperative Credit Union of the Gambia (Naccug), in partnership with Savings Bank Foundation for International Cooperation (SBFIC), are set to provide financial opportunities for 15 young business start-ups in order to enhance their participation in boosting the economy.
The goal is to strengthen Naccug and credit unions in The Gambia through needs based, affordable and methodically good measures of vocational education, Foday Sanyang, general manager of Naccug, said at a ceremony at the Naccug head office in Kanifing.
"Our role as the umbrella body of all credit unions is to make sure that we provide the platform, the opportunity for all Gambian youths to contribute towards the social development of the country.
– Advertisement –
That's why we are partnering with other organisations like SBFIC, to realise those dreams," he explained.
He said the project's objective is to offer beneficiaries training in the area of financial education, and to facilitate improved access to finance.
"Since there is hardly any dependent employment in The Gambia, the focus of the project is on small and medium companies including small agricultural businesses.
The economic knowledge of the targeted group should be strengthened and access to credits should be made possible," he added.
He said various trainings have been conducted through their partnership with SBFIC on business and savings and others.
"And today, we are moving on to the next phase. That is why some of you are here," he told beneficiaries.
Bernd Baehr, SBFIC consultant, said the Savings Bank was first introduced in Germany some 200 years ago as a microfinance institutions for low-income earners.
"Since then, we have evolved into one of the largest financial groups in the world, successfully combining a high level of professionalism with a strong social mandate".
Baehr said a training course for about 1000 participants will be held nationwide through existing training institutions in particular, the National Associations of Cooperative Credit Union of the Gambia (Naccug).
"The target group for the training is people aged 15 to 35 and women aged 45 who have already attended or participated in a technical and vocational education and training (TVET) course.
"For the farmers, prior participation in a comparable course for small farmers should be compulsory.
The skills acquired in the project serve to complement existing craft or technical skills in such a way that the participants are able to start their own business or to develop it sustainably," he stated.
Other speakers were Mama Banja, CEO Yamama Secret Beauty.