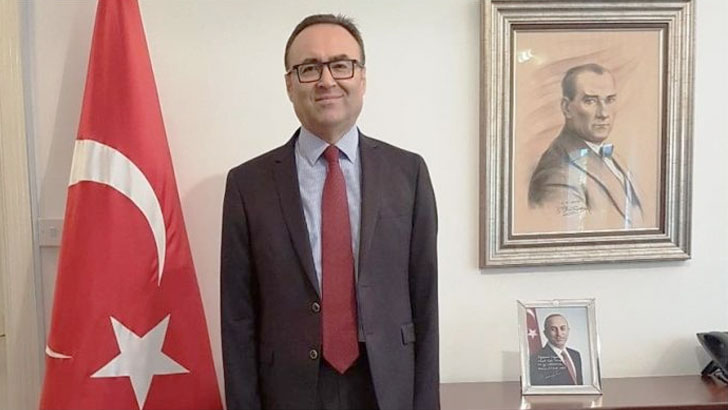 The Turkish ambassador to The Gambia, H.E Ismail Sefa Yüceer has completed his tour of duty.
Bidding farewell at the 96th National Day of Turkey, Ismail Sefa Yüceer said: "Availing myself of this opportunity, I would like to announce that my tour of duty in the Gambia is coming to an end within few weeks. Having spent 3 years in The Gambia, based upon my experience and observations in the country, I could conclude that The Gambia could be more hopeful for the future than when I arrived in late 2016. Like all my colleagues from the diplomatic corps who arrived before 2017, I also witnessed the smooth and peaceful transition of the country to democracy.
"As a matter of fact, under the wise leadership of H.E. President Adama Barrow this country made great strides in many fields during the last 3 years. As a long time friend of The Gambia, Turkey from the very first day of the change in the country gave its utmost support to the government and people of The Gambia. Actually, this support manifested itself in concrete programmes and projects financed by Turkey. Our logistical support to the Gambian army, capacity building programmes extended to the Gambia Police Force, health, fisheries and agriculture ministries, local administrations and scholarships provided by the Turkish state and private universities to the Gambian students are some examples of this ongoing cooperation.
"I am proud to share that The Gambia is a true friend in Africa and that the Gambian people are brothers and sisters of the Turkish people. In other words, Turkey has been and will always be a trans-continental brother of the Gambian people.
"On this occasion, while bidding farewell to all the distinguished guests present here, I would like to extend my sincere thanks and appreciation to all the honourable ministers and officials of the Gambia government as well as my colleagues from the diplomatic corps. Along with that, I also wish to thank my colleagues at the Embassy for the good work through these three years."