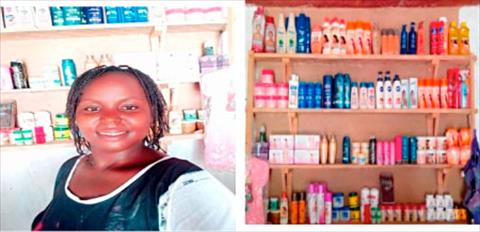 A Bansang youth, Ms. Jainaba Jallow has explained how the Forty-Seven Thousand Dalasis (D47, 000) grant support from Youth Empowerment Project (YEP) empowered her to relocate from her previously small shop in Bansang, to a bigger shop in Janjanbureh, Central River Region South.
The Youth Empowerment Project (YEP) is a EU-funded flagship project of the Republic of The Gambia implemented by the International Trade Centre in collaboration with the Ministry of Trade, Industry, Regional Integration and Employment and the Ministry of Youth and Sports with the objective to improve skills, create jobs and generate income for Gambian youths.
Before her receipt of the mini grant, Jallow had been operating a small shop in Bansang, which she started in 2017, selling Ladies items such as cosmetics, body cream, costumes, shoes, and children's wears, among other products.
She said she was supported by YEP Mini Grant Scheme in 2018 with lots of cosmetics and other items to expand her business.
"I was motivated to venture into this business after I attended a business training.
I want to encourage other youths to go into viable businesses that can earn them a better livelihood and create employment opportunities for them," the YEP beneficiary enjoined.
Commenting on the impacts of the mini grant, Jallow challenged the youth of this country to make best use of the grant, reasoning that it's geared towards augmenting the employability of the Gambian youth folk.
''The grant would aid her to endeavour into business to create employment opportunities for them, she said.
Jallow challenges her colleagues to venture into business to create job opportunity for them to better improve their living conditions.
She reiterated the point that the grant has enabled her to expand her business by providing the shop with lots of items, and securing her a bigger shop space.