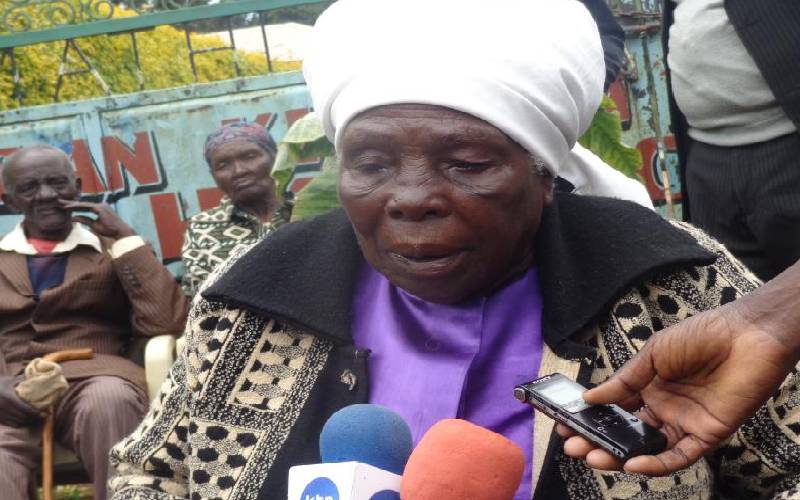 Mukami Kimathi, wife of former freedom fighter Dedan Kimathi has eulogised the late President Daniel arap Moi as a generous man who recognised freedom fighters.
According to Mukami, Moi was a hero who helped many people including the Children."Moi was appointed by God to lead Kenyans into achieving their goals," she added.Mukami said Moi invited her and other freedom fighters to his home in Kabaranet several times and ensured they returned home to their children with something.
"He could not let you leave his place empty handed, he was very generous and this he extended to children that is why he brought the famous milk," she said.Mukami remembered Moi as a jovial person who loved all people.Mukami also described Mzee Moi as a "devout Christian, an African icon and an astute politician" who led Kenya so well for 24 years.
Mukami said Moi will be remembered for touching and improving the lives of many people both in Kenya and across the world."To God he came and to God he has returned, May God Rest Her Soul in eternal life," added Mukami who is still mourning the death of Mzee Moi.She remembers the day Kimathi was killed, saying Moi was very close with her late husband.
She said they will hold Dedan Kimathi's 64th commemoration on February 18, 2020 in Nyeri County Kahigaini area and urged Kenyans to attend the event.The widow also prayed to God to remember Kenyans and other Freedom Fighters."We should retain peace and unity that our heroes including Moi had, the name of God be praised, "Said the Widow.The former head of state will be laid to rest at his Kabarak home on February 12.