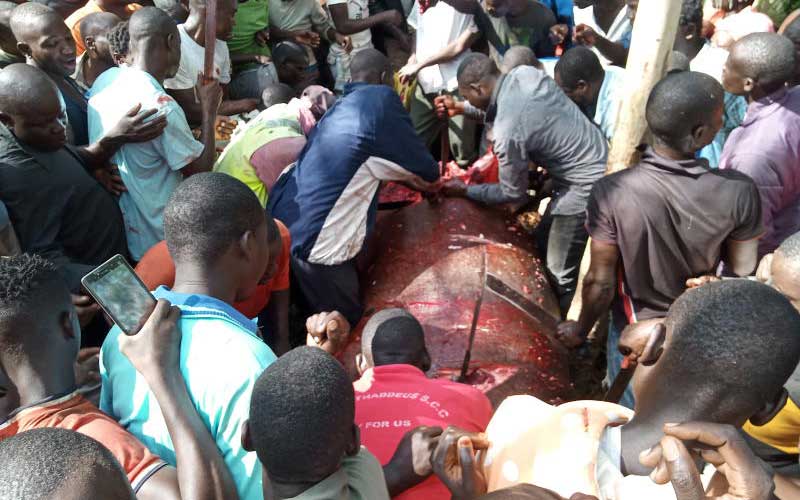 Residents of Lwero and Amerikwai in Teso South constituency killed a stray hippo and shared out its meat.
The animal, which mostly lives in water, was sighted at around 6am on Saturday morning at the home of one of the locals, Florah Senedwa, in Amerikwai village.Ms Senedwa said she woke up and saw a big animal standing outside her house. She raised the alarm and the public responded. People came out of their houses armed with weapons ready to kill the hippo."I sighted it in my home and notified other people. They responded swiftly and we started chasing it with weapons," said Senedwa.
"We managed to kill it. We must feast on it since it has caused a lot of destruction in our farms and homes," she added.There was nowhere the animal could hide. The residents cornered it in Lwero village where they descended on it with knives, pangas and machetes . Its limbs were chopped off while it was still alive, making it grow weak and collapse.Many claimed the jumbo-sized animal had left a trail of destruction in the area.
It had destroyed crops and a number of structures, particularly latrines.Police officers from Adungosi Police Station, who arrived in Lwero, watched helplessly from a distance as the villagers descended on the hippo with machetes.
Immediately after it collapsed, the villagers did not waste time. They cut it up, hurriedly disappearing into their homes with huge chunks of meat.An ugly scramble for the meat ensued. Those with the sharpest machetes were the luckiest.They quickly chopped off the juiciest parts, as others struggled to cut the animal's thick skin.Bahati Geoffrey, a resident, said hunting down the hippo was not an easy thing.He explained that the villagers had to chop off its limbs first to make it powerless.Mr Bahati said police showed up as the hippo was being cut up but there was little they could do to control the rowdy and hungry crowd.Contact KWSThey are said to have contacted officers from the Kenya Wildlife Service (KWS) who did not show up."There are many hippos in Busia, the earlier KWS starts hunting for these animals the better. Otherwise we will kill them all," said Bahati.On Friday, another hippo injured a woman in Busibwabo, Matayos constituency. She was rushed to Nambale Sub-county Hospital.River Sio is full of hippos. At night, they come out of water to graze.They often leave a trail of destruction in farms located near the river bank.The regional KWS boss Rose Malenya said the hippo problem in Busia can only be solved from the agencies headquarters in Nairobi.